By Ellen Kuwana
Neuroscience for Kids Staff Writer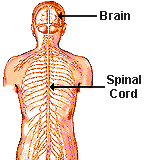 October 11, 2004

"I refuse to allow a disability to determine how I live my life."


--Christopher Reeve (1952-2004)
Actor Christopher Reeve made a name for himself portraying the action hero Superman in the 1978 movie; the later years of his life were no less heroic. After a horse riding accident in 1995 broke two cervical vertebrae in his neck, he was paralyzed from the neck down. For the past nine years, from a wheelchair, he challenged medical science to do better. He refused to accept doctors' statements that there was nothing that could be done for this type of paralysis.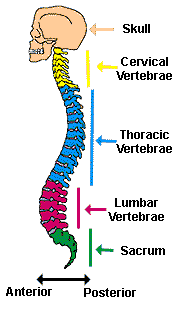 By tirelessly challenging doctors and himself, Reeve recovered some function in parts of his body, such as his fingers -- this was previously thought impossible. He also amazed doctors by occasionally breathing on his own, without the help of a ventilator. The prevailing wisdom, "use it or lose it," was that once you lost control over a body part, you could never regain use of it. Reeve proved that this was not true.
Reeve's determination touched everyone around him. "He was one of the most intense individuals I've ever met in my life," commented Dr. John McDonald, director of the Spinal Cord Injury Program at Washington University in St. Louis, Missouri. "Before him, there was really no hope. If you had a spinal cord injury like his there was not much that could be done, but he's changed all that, he's demonstrated that there is hope," McDonald added.
Daily life, however, was not easy. Reeve admitted that he considered suicide in the early days after the accident. Seeing his children, though, made him realize that his family still needed him. Even with the amazing progress that Reeve made, daily life has its challenges when you are paralyzed. When you can't move your body yourself, you can not shift your weight, as an able-bodied person does without thinking many times an hour. Constant weight on one area can cause a pressure wound, which can become infected. Reeve developed a whole-body infection from a pressure wound; he later fell into a coma and on Sunday, October 10, 2004, he died from heart failure.
Reeve's life is a lesson in how to live life with purpose. He used his celebrity to raise awareness and funds for the Christopher Reeve Paralysis Foundation, which has raised millions of dollars in order to speed treatments for spinal cord injury. He testified before lawmakers about the importance of stem cell research. Most importantly, Reeve, with wife Dana at his side, provided an example of how to live fully -- and to live with hope. Super, indeed.
Cards can be sent to the Reeve family at:


The Christopher Reeve Paralysis Foundation


500 Morris Avenue


Springfield, New Jersey 07081