The Experiment
Dr. M.S. Fradin (Chapel Hill Dermatology, Chapel Hill, NC) and Dr. J.F. Day (Florida Medical Entomology Laboratory, University of Florida, Vero Beach, FL) tested the insect repellents on 5 men and 10 women volunteers. The volunteers put their arms into a test cage that contained 10 hungry female mosquitoes and the researchers recorded the time until the first bite.

As seen in the graph, the most effective insect repellents were those that contained the chemical called DEET. The product that performed best was OFF! Deep Woods (23.8% DEET) which prevented mosquito bites for an average of 301.5 minutes (just over 5 hours). The second best repellent, Swayer Controlled Release with 20% DEET, kept people bite-free for an average of 234.4 (almost 4 hours). However, DEET products were effective only when they were applied to the skin. Wristbands with DEET provided no protection: people wearing wristbands with DEET were bitten in less than one minute. The best non-DEET product, Bite Blocker for Kids with 2% soybean oil, was effective for 94.6 minutes (about 1.5 hours). Repellents with citronella did not work very well: Natrapel with 10% citronella and Herbal Armor with 12% citronella kept mosquitoes away for less than 20 minutes.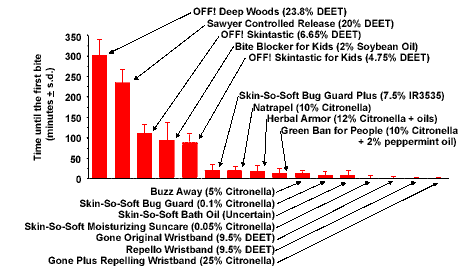 DEET probably works by disrupting the olfactory sense of mosquitoes so they can't find you. Some people might criticize the new experiments because they were performed in a laboratory and not outside. Some non-DEET repellents may work better in the natural environment where mosquitoes live. Some data show that DEET may be toxic and even cause neurological damage. However, in an editorial in the New England Journal of Medicine that accompanied the new research paper, Drs. R.J. Pollack, A.E. Kiszewski and A. Spielman of the Harvard School of Public Health state:
"DEET is far less toxic than many people believe. Adverse effects, though documented, are infrequent and are generally associated with gross overuse of the product."


Image courtesy of the CDC, James M. Stewart