ALS is also known
as Lou Gehrig's Disease
Able to think, unable to move. The mind trapped within the body. That is how people with amyotrophic lateral sclerosis (ALS) describe their condition. Their thinking abilities including memory are working, but their bodies will not respond to commands from the brain to move. ALS is also called "Lou Gehrig's Disease" after the famous baseball player who died of the disorder in 1941. The National Institutes of Health estimates that there are 14,000-15,000 people in the United States with ALS. The ALS Association estimates that there are 15 new cases of ALS are diagnosed every day.

ALS is caused when certain neurons in the motor cortex and spinal cord die. These neurons control voluntary muscles and the ability to move. As these neurons die, a person may become weak and paralyzed. ALS is not contagious, but it may run in families.

There are several drugs to treat the symptoms of ALS, but there is no cure and the cause of this disorder is still unknown. Research published in the journal Neurology (January 2000) suggests that a virus may be responsible for ALS.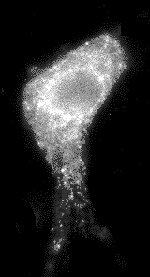 Motor neuron in
the spinal cord.