June 12-14, 2014 - Sanjuanislander.com; Islandguardian.com; Sanjuanjournal.com
and appeared in the print version of The Journal of the San Juan Islands on June 18, 2014, pp.7-8.
Why Marine Reserves?
by Megan Dethier, Billie Swalla, Claudia Mills and Richard Strathmann
What are marine reserves, and why do we care about them on San Juan Island?
The terminology for various forms of 'protected' areas in the ocean is vastly confusing: Marine Stewardship Area, Preserve, Protected Area, Sanctuary, Conservation Area, Voluntary Reserve… all these are set up to protect some resources by limiting the type and amount of human activities allowed in them – but the range of such activities, and the agencies in charge, vary widely.
In Washington state, this issue is made even more confusing because jurisdictions of intertidal and subtidal lands and resources are very complex, with private versus public ownership, control of the bottom by the Washington Department of Natural Resources but animals in the water by Fish and Wildlife (WDFW), and other facets by the U.S. Army Corps of Engineers and the Coast Guard; if you don't understand it, it's not just that you haven't been paying attention.
In 1923, The San Juan Archipelago was first designated a Marine Biological Preserve by the Washington state legislature and the director of the Marine Station was given responsibility for preservation of its marine resources. In 1969, the Washington legislature reiterated this control of the "marine biological materials" to the director of the UW Friday Harbor Labs, except those gathered for human food, in the "salt waters and the beds and shores of the islands constituting San Juan county"; this regulation was updated in 2003.
The University also actually owns the tidelands in a number of areas such as False Bay (purchased in 1974) and Argyle Lagoon and its saltwater creek (purchased in 1984 after leasing for many years) and manages those as more strict Biological Reserves.
Layered on top of that are a variety of Marine Protected Areas that are managed by WDFW, and where harvesting of most species (except, often, salmon and herring) is prohibited. In each case, reserves are set up as management tools to help (in the words of WDFW) "protect and conserve fragile or unique habitats, species and culturally historic sites, enhance fisheries abundance and biodiversity."
Some types of areas are meant to provide recreational and educational opportunities, while others limit recreational use where there are particularly sensitive resources or habitats. The UW Biological Reserves have the overarching goals of maintaining and restoring native biodiversity and ecosystem function, and facilitating education and research that is consistent with these goals.
Is this important?
To provide a bit of broader context, worldwide, there are international calls for 20% of the world's oceans to be protected in some form. This month the U.S. State Department is hosting an "Our Ocean" conference; one of the goals there is to "dramatically accelerate protections for U.S. waters" in marine reserves, because of the documented role these can play in helping fishery stocks recover.
There are tens of scientific studies demonstrating that in no-harvest areas, fishes are not only more abundant but they also grow larger and produce many more offspring; this results in an 'overflow' into adjacent regions, ultimately increasing harvestable stocks. Marine reserves, such as those that contain eelgrass beds or salt marshes, also provide nursery areas for crabs and other commercial species.
More subtly, marine reserves also protect natural processes, by providing areas where organisms and their environment can interact in the ways for which they evolved. For example, in False Bay, natural processes of sedimentation, disturbance by waves, and input of dead plant and animal matter from land and sea provide a rich sand-dwelling community that feeds resident and migrating shorebirds as well as resident and migrating fishes. People who dig for clams disrupt those communities, and dogs that run loose often chase away the shorebirds that rely on places like False Bay for "tanking up" during migrations.
Finally, reserves provide a baseline against which to measure the effects of activities outside them. Because the impacts of harvesting and other activities are often unknown, that hedge against unanticipated effects can be of practical importance.
For example, the no-fishing reserves in San Juan Channel have allowed study of how this restriction affects diversity and sizes of both fishes and their prey, when compared against adjacent open-to-fishing areas. Likewise, the closed-to-clamming areas in Garrison Bay not only create healthy clam populations (and spread larvae to other areas), but also make it possible to do research on the relative roles of digging holes versus actual harvest.
A large number of experiments contributing to our understanding of local marine resources have been done within the county's various reserves. Many of these sites are also used by the UW FHL K-12 Outreach program for teaching the county's school children about science and marine life.
Ultimately, marine reserves and the understanding they promote benefits fishermen, shorebirds and their bird-watchers, orcas, and people who simply love being surrounded by pockets of relatively pristine marine habitats.
In summary, marine reserves help preserve and protect our fragile marine environment.
- All authors are scientists working at the Friday Harbor Labs.
October 15, 2008, The Journal of the San Juan Islands.
Printed in the paper version of the San Juan Island newspaper, p. 11A (not otherwise available online).

Research here leads to Nobel in Chemistry:
U.W. Friday Harbor Laboratories hosted core research for the 2008 Nobel Prize in Chemistry
by Claudia Mills
Special to The Journal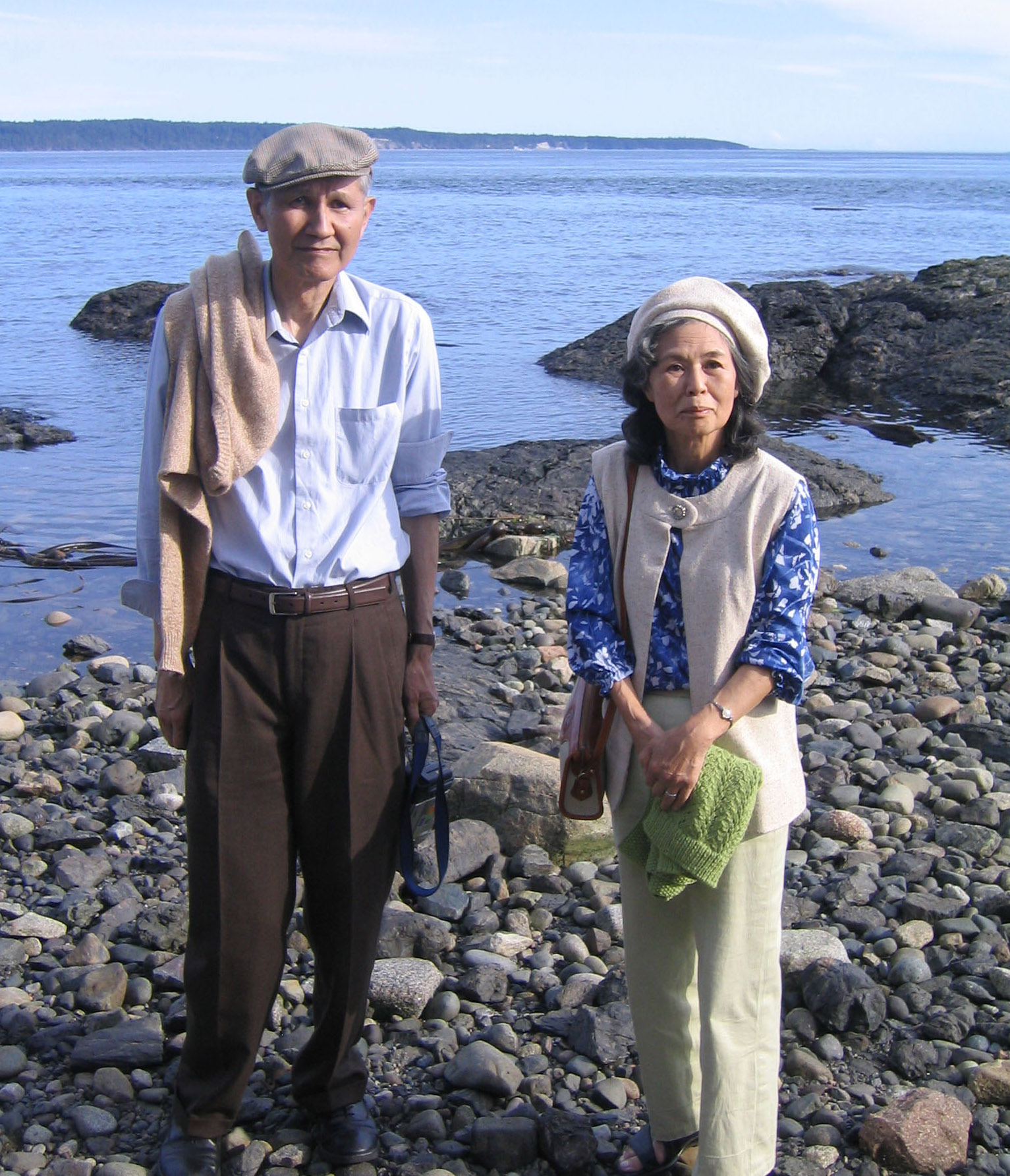 Dr. Osamu Shimomura and wife Akemi, who worked as his research assistant, at a beach barbecue on San Juan Island in 2004, during a symposium on photoproteins in celebration of the centennial of the UW Friday Harbor Labs. Photograph by Claudia Mills.
When the 2008 Nobel Prize in Chemistry was announced on October 8, it went to a set of discoveries anchored in the waters of Friday Harbor. Osamu Shimomura of the Marine Biological Laboratory of Woods Hole, Massachusetts, shares the $1.4 million prize with Martin Chalfie of Columbia University and Roger Tsien of University of California, San Diego. Shimomura was a visiting scientist at the UW Friday Harbor Labs for about 20 summers between 1961 and 1988, where he studied photoproteins in Aequorea victoria, one of the jellyfish common in the waters around Friday Harbor. Chalfie and Tsien also did portions of their work using Aequorea at the Friday Harbor Laboratories on San Juan Island.
All three scientists were in town in 2004 as participants in a symposium on Calcium-Regulated Photoproteins and Green-Fluorescent Proteins, during the centennial celebrations for the Friday Harbor Laboratories.
Shimomura and his post-doctoral advisor Frank Johnson were interested in the proteins responsible for the flash of light produced by some jellyfish. Aequorea was present in enormous numbers in Friday Harbor in the 1960s, and so became the focus of their studies. Thousands of jellyfish were collected by Dr. Shimomura and his family, assisted each year by teenagers from lab families and from town including Liz Illg, Debbie Nash-Strasser, Laura Norris, Cathy Scott, Keith Willows, and numerous others. For many years, the going rate was a penny per jellyfish and the town dock was the favored collecting location.
In a 1995 paper, Shimomura recalled that he spent hours floating and dozing in a lab rowboat in the (not very busy) harbor that first summer of 1961, trying to figure out just how to extract the initially-elusive bioluminescent proteins from the jellyfish.
Collecting jellyfishes was followed by the initial steps in the protein extraction, and then at the end of each summer, partly-purified material was carried back to Princeton University where Shimomura continued his studies.
Aequorea is one of many jellyfish that bioluminesce in response to being prodded; although how the animals use this capability in the wild is still not well understood. The light is localized around the rim of the jellyfish and is produced by a pair of proteins, called aequorin and green fluorescent protein (GFP), that work together. It is for work with GFP that the Nobel Prize was awarded.
Green fluorescent protein, unlike aequorin, emits light without adding any other components to the mix besides ultraviolet light. It was cloned about 1990, and after that, the jellyfish were no longer needed. Chalfie and Tsien, who shared the Nobel Prize, were among a diverse group of scientists who realized the potential of GFP as a genetic marker protein, making it possible to insert fluorescence-tagged foreign proteins into cells, producing cells or entire organisms that fluoresce under UV illumination. GFP and its analogues have now become ubiquitous tools in biological and medical science.
In the paper describing the history of his studies of these proteins, Shimomura recalled that when Aequorea jellyfish were most abundant, he could collect 5 to 10 per minute, and that 3000-4000 jellyfish could be processed on a good day. Aequorea, along with most of the other 75 species of jellyfish in our waters, is now present only in very low numbers, due to unidentified problems with the ecology of Puget Sound (the other species were never collected in substantial numbers, thus the scientists' collections are not implicated in the general drop in all jellies). Shimomura's ground-breaking work could never have been accomplished in our now-depauperate waters, and thus serves as a reminder of the value of biodiversity in our everyday lives, and that remarkable discoveries can be made from humble materials.
Shimomura is the second scientist who has worked summers at the Friday Harbor Labs to receive the Nobel Prize. George Hitchings, who was an undergraduate research assistant at FHL in 1927, shared in the Nobel Prize for Physiology or Medicine in 1988.
Claudia Mills has studied jellyfish at the Friday Harbor Labs for three decades.
She helped process jellyfish photoproteins one summer in order to learn more about it.
September 17, 2008, The Journal of the San Juan Islands.
Printed in the paper version of the San Juan Island newspaper, p. 12A (not otherwise available online).

Hedrick Smith in films 'Frontline' episode in Friday Harbor
by Claudia Mills
Special to The Journal

Hedrick Smith, one of America's most distinguished journalists, was in Friday Harbor September 6-8, 2008 with his production team, filming portions of a new episode of "Frontline" for PBS television. The two-hour program for early 2009, provisionally-titled "Poisoned Waters", examines the faltering state of environmental protection in America and, using two case studies, asks why it is so difficult to save premier waterways like Puget Sound and Chesapeake Bay.
Smith has a personal connection with this story; he is a summer resident of Orcas Island and for years had a summer home on Chesapeake Bay, while his main residence is near D.C. Both regions share a history of all sorts of point-source pollution, have major contaminated sites that triggered Superfund clean-ups, serious problems of agricultural pollution from farming, and enormous increases in land clearing and development in recent decades.
The segments filmed in Friday Harbor focused on what the resident orcas can tell us about the health and contamination of local waters, and included interviews filmed at the Friday Harbor Laboratories with San Juan Island orca researcher Ken Balcomb of the Center for Whale Research and Dr. Peter Ross, toxicologist with the Institute of Ocean Sciences (Fisheries and Oceans Canada) in Sidney, B.C., who studies the effects of persistent environmental contaminants on the health of marine mammals. Smith's team joined Seattle NOAA scientist Dr. Brad Hanson in Haro Strait to film the process of collecting samples from the local orca population.
Including a dozen programs for Frontline, Smith has made 50 hours of documentaries that have been shown on public television. He produces about 2 ½ hours of programming each year, and has 15-18 months already in the present show, with the production team about 10 months into it.
After so many months investigating this environmental protection story, Smith concludes that 35 years after the passage of the Clean Water Act in America, there is real reduction of point-source pollution in these two estuaries. But there are very tough economic problems to be solved before further clean-up can be accomplished.
Smith says that now the problem is no longer them (the big polluters), but it is us, and many changes will be required in order to turn things around. He has learned that one successful pathway to change has been through dedicated citizen involvement, with grass roots efforts fundamental to forcing both polluters and regulators to do better in Puget Sound and Chesapeake Bay.
Following a career writing for the New York Times, during which he won Pulitzer Prizes in 1972 and 1974, Hedrick Smith moved to filming television documentaries in 1988. He is one of several regular producers for the 25-year old series "Frontline," which airs on Public Television on Tuesdays at 9 pm.
"Frontline" is the only continuing documentary series on public affairs in America. Earlier episodes can be viewed online, where they reside with interesting supplementary material. Smith's "Frontline" programs include recent episodes Spying on the Homefront (2007) and Can You Afford to Retire? (2006). Smith and his team have won all of television's top awards.
Claudia Mills, an independent scientist at the Friday Harbor Labs, has been in the frontlines asking San Juan County (Washington State) to do better to preserve the health of local ecosystems.
April 30, 2008, The Journal of the San Juan Islands.
Printed in the paper version of the San Juan Island newspaper, p. 9A (not otherwise available online).

Obituary - Volker Schmid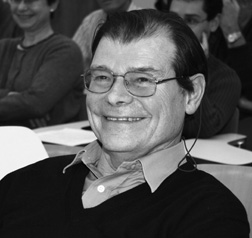 Volker Schmid, part-time resident of San Juan Island, succumbed to bone cancer on April 1, 2008 at home near Basel, Switzerland. Volker first visited San Juan Island for a year in 1975-1976, as a visiting scientist at the Friday Harbor Labs, accompanied by his wife, Kaethi, and children Mark and Leona; his youngest child, Jan, visited Friday Harbor on later trips.
The Schmids bought a house at Cape San Juan not long after their first visit, and returned to San Juan Island many times over the next 30 years. During his visits to the Friday Harbor Laboratories, Volker continued his biological research and taught graduate students in the field of developmental biology together with Arthur Whiteley.
Volker was an enthusiastic salmon fisherman. He met and befriended Charlie Nash early on and learned techniques from Charlie. He kept an aluminum skiff for salmon fishing on his beach. In Switzerland, he hunted seasonally for mushrooms in the Alps with the same fervor.
On each visit to San Juan Island, Volker convinced Kings Market to order in his favorite, strong "green" cheese from Switzerland, and he was probably its only local consumer. At each return visit he noted that what they had on hand seemed rather old, and asked for a new order.
Volker greatly admired our local vegetation – particularly the madronas - and at one point hired a tree doctor to examine a large garry oak at the Labs that was doing poorly.
Volker was one of several scientists in Switzerland who studied marine organisms, growing them in salt-water aquariums at the University of Zurich and later, at the University of Basel. When not teaching university students and directing his research lab in Switzerland, he visited marine research stations over the world. As well as teaching at the Friday Harbor Labs, Volker Schmid taught courses at marine stations in Roscoff and Banyuls in France and also gave tutorials to students in Japan and Italy.
Volker's scientific research included studies of development and evolution, for which he grew large numbers of tiny jellyfish, Podocoryne carnea, in his laboratory in Switzerland. Several decades ago, Dr. Schmid discovered that muscle cells of this jellyfish could "transdifferentiate" into other cell types. This work was fundamental to some of the more recent studies of stem cells in other organisms. His research included comparisons of the early development of jellyfishes and their close relatives in order to understand early evolution of the simplest multicellular animals. In doing so, he discovered that these animals had features in common with more complex animals that had not been previously recognized.
His studies led to collaborations and many friendships throughout the world. He maintained a residence on San Juan Island to his last year, and his family plans to continue visits here.
A commemoration was held at the Biocenter of the University of Basel, Switzerland, on April 29th, 2008.
-- Submitted by his friends and colleagues Claudia Mills, Richard Strathmann, Dennis Willows, Arthur Whiteley and George Mackie.
September 21, 2004, The Journal of the San Juan Islands,
posted at sanjuanjournal.com
and printed October 6, 2004 in the paper edition of the Journal of the San Juan Islands
Environment: Oysters -- an invasive tale in the San Juans
by Claudia Mills and Dianna Padilla
Oysters have become more common along the San Juan County shoreline in recent years. We have repeatedly overheard conversations that this represents a comeback of the native "Olympia oyster" (Ostrea conchaphila, formerly known as Ostrea lurida), but sadly, that is not what is really happening.
Our shorelines are becoming increasingly populated by the non-native, Pacific oyster, Crassostrea gigas, which has been present on the west coast and in Puget Sound since 1875, when it was first imported from Japan for aquaculture.
The Puget Sound native Olympia oyster inhabits estuaries, small streams and rivers from southeast Alaska to Baja California. There is little suitable habitat in the San Juans and we do not know of any local populations here. Washington State is promoting rehabilitation of Olympia oyster populations, and the Samish tribe plans restoration projects for this species in the near future in north Puget Sound and possibly in this county.
The introduced Pacific oyster does well in areas of higher salinity and can now be found on rocky shores throughout the county. A similar bloom of Pacific oysters occurred here in the early 1960s, but conditions changed and most of those disappeared over the next 10-15 years.
Over the past six years we have seen another dramatic increase in Pacific oyster abundance. Right now, these non-native oysters along county shorelines are not causing much trouble, but over time they may force large ecological changes.
Pacific oysters were planted and became established in some places on Vancouver Island in the 1950s and '60s, and now form shelly reefs several feet thick, even in places that were once mudflats, excluding nearly everything that used to live in these habitats (individual oysters can live decades).
On the other hand, Pacific oysters in the San Juans seem mostly to be establishing on rock in the mid-intertidal, rather than on old shells, and are beginning to take up some space previously occupied by Fucus, our native rockweed. Slightly warmer weather in recent years may have facilitated the invasion of Pacific oysters on our shorelines, as these oysters require warm waters to spawn and for their larvae to grow.
So what should the public do about this invasion of our shorelines? We suggest that one important contribution is that people not enhance the invasion by "raising" Pacific oysters on your own shoreline. Collecting and eating oysters already growing here is one way to help control these oysters in the county, but such collection also comes with some risk of trampling or otherwise disturbing the native fauna, which cannot take infinite abuse by people walking on it during low tides.
We suggest that buying oysters from local aquaculture farms may be the most environmentally neutral way to enjoy oysters in your diet. These growers must monitor water quality and meet health standards in order to market their shellfish; they offer safe and healthy products. Although they are growing what seems to be the same species now increasing along our shoreline, there are ecological differences between the two populations and the sea farms do not appear to be the source for the expanding feral population.
The authors are biologists at the U.W. Friday Harbor Laboratories and are conducting research on local marine invasive species, including the Japanese oyster and the purple varnish clam, which is also common on many San Juan County beaches.
posted February 1, 2003, San Juan Islander - online daily newspaper for the San Juan Islands, at sanjuanislander.com
Claudia Mills explains her comments [on not wanting improvements to ferry service]
Dear Editor,
I would like to expand my statement, expressed at the Ferry Capital Cuts hearing on January 30th and cited by your paper, that I could live with less ferry service.
To me, roadless access to the San Juans is the only thing keeping this county from being just like all the other places in NW Washington -- our scenery is actually not that much better than plenty of other nearby places -- it is just that others have developed and wrecked what was there faster than we have. I believe that the inconvenience of having to arrive here by ferry (or other boat, or plane) is the chief protector of what I see as the essence of our quality of life.
Having to depend on ferries is a hassle for all of us. Some (ex)residents move away because that fact of our lives overwhelms for them the enjoyable aspects of living in the San Juans. Living here makes many activities very inconvenient, like day trips for skiing and hiking or even shopping at the big mainland malls, that otherwise by miles should be easy to do. But what we get for the ferry system, and continuously having to plan ahead to accommodate it in our lives, is what is loosely known as the "island lifestyle" and all the things that come with it. There is still plenty of rural land not far away on the mainland -- but I would chose living here over the mainland any time. To keep that lifestyle, I believe that we rely on poor ferry service.
In terms of specific cuts to the ferry service, I would be very sorry to see either the inter-island boat or the international (highway) service to Canada cut out. I would not, however, miss the terminal expansion proposed for Friday Harbor, especially since no increase in service is anticipated for at least a decade. Somehow the ferry officials at the hearing seemed uninterested in the 5 million dollars that they said such a capital improvement is going to cost. It sounds to me that expansion of the Friday Harbor ferry terminal may come at a cost of losing the inter-island boat, which I think would be folly for those of us who live here.
Not many more than 10 people testified at that hearing, and the first person set the scene by predicting the inevitable arrival of bridges between islands, as much cheaper than ferries and perhaps the only choice at some future time because of cost issues. In that climate, having rapidly daydreamed what the San Juans would be like with bridge access to the mainland, I felt that it was important to represent the opposite point of view, which happens to be the one that I believe in. Speaking out at hearings on behalf of keeping the San Juan Islands a special place has become one of my "hobbies" in the past decade. I don't enjoy meetings like that, especially in bad weather and in place of eating dinner, but I do believe that we have some control over our future if we have the energy to take it.
Claudia Mills
San Juan Island
October 15, 2002, The Journal of the San Juan Islands,
posted at sanjuanjournal.com and Islandsweekly.net
and reprinted October 6, 2004 in the paper edition of the Journal of the San Juan Islands
What's up with all those red jellyfish, anyway?
by Claudia Mills
For the past month, San Juan County has been host to thousands of dying jellyfish stranded on beaches by receding tides. Most are a dark brick-red color, varying in size, and usually with some frilly material (the mouth and associated feeding surfaces) in the center on the underside. These are the mythical "Lion's Mane", star of a not-too-interesting Sherlock Holmes story, and known to scientists by the name Cyanea capillata.
The Lion's Mane is native to the inland waters of Puget Sound, but is much more numerous offshore in the coastal Pacific. A few Cyanea capillata are present all summer in the San Juans, but on the weekend of September 6-8, 2002, the numbers vastly increased. This indicated an intrusion of oceanic water, carrying with it lots and lots of these large Lion's Mane jellyfish.
The net flow of water through the San Juans is usually south and outward towards the Pacific, driven by the freshwater input from the Fraser River. Tides come in and go out, but the overall direction of flow moves out through the Strait of Juan de Fuca. Occasionally, this flow is reversed for a short time, leading to an intrusion of water from the Pacific, carrying with it a variety of oceanic animals and algae that are not otherwise common in the San Juan Islands.
I have been studying the plankton here for about 25 years. These brief current reversals are clearly marked by the arrival of lots of "new" animals in our waters, which then may remain resident for months. Such events happen at least once most springs and most autumns. Autumn intrusions are typically marked by large numbers of Lion's Manes that then end up stranded on our beaches. Spring intrusions are characterized by large numbers of very small jellyfishes and swimming snails, which mark the beginning of the research season for me and a number of colleagues who visit Friday Harbor just to study these otherwise not-easily-available organisms.
The Lion's Mane is said to reach a maximum size of nearly 6 feet in diameter, but it is typically less than 2 feet across. These jellyfish, or medusae, are born every spring from small polyps (like tiny sea anemones) that live somewhere on the sea floor. By May in the San Juans, the jellyfish are usually a couple of inches in diameter and are yellowish-brown in color. They grow throughout the summer, eating primarily other jellyfish, and some small crustaceans, becoming the dark-red giants that we see by early autumn. They spawn daily for weeks in late summer, the embryos settling down on the bottom to overwinter as new polyps. The medusae live less than a year, most dying in the autumn, with only the occasional survivor making it into December.
The Lion's Mane has an uncomfortable sting, although the specimens that arrived in large numbers last month had all lost their hundreds of tentacles ­ perhaps from the change of salinity as they moved in from the Pacific. This species is rarely dangerous, but it is a bothersome pest for fishermen from Washington to Alaska. When nets and lines are hauled in, pieces of jellyfish get caught in the tackle block, the flying bits forming a stinging red rain.
This species occurs in both the North Atlantic and the North Pacific, as well as Arctic waters. Its color is geographically variable. In the Bering Sea, the Lion's Mane varies from golden brown, through rosy pink, to our familiar deep red color ­ probably reflecting differences in available food. The astute reader with a background in Latin may have realized that the name Cyanea in fact derives from the Greek kyanos, which means dark blue. That misleading name arises because the first species described in this genus (Cyanea lamarcki from the North Atlantic) is a brilliant blue.
Fisheries data has shown that jellyfish in the Bering Sea increased 10-fold in the 1990s over numbers present in the same system in the 1970s and 1980s. [Note added in 2008: the increased in jellyfish in the Bering Sea abated in the early 2000s, returning to near-normal levels.] There is no parallel quantitative study of jellyfish numbers off the Washington coast, so we have no way of knowing whether or not a similar population increase has occurred here. The periodic oceanic intrusions give the appearance of blooms in the San Juans, but are indicative of a different process and are not sufficient to give any solid data on changing numbers locally.
Claudia Mills is a scientist at the University of Washington's Friday Harbor Laboratories. Her interests include jellyfish and jellyfish blooms, the increasing appearance of non-native species in marine ecosystems, and general ocean change over recent decades.
July 2002. People for Puget Sound Newsletter Sound and Straits, Vol 12 (2), p 8 (back).
posted at pugetsound.org
Creature Feature. JELLYFISH: Aequorea victoria
by Claudia Mills
One of the common animals in bays and harbors around Puget Sound and the Strait of Georgia during the summer months is the jellyfish Aequorea victoria. This species was named for the city of Victoria, British Columbia, by a pair of Canadian naturalists in 1902.
Aequorea is a colorless, transparent jellyfish that typically measures up to about 4 inches in diameter, although the smallest jellyfish are only about 1/10 of an inch when they are let go by their parent.
Aequorea jellyfish (also known as medusae) are harmless to humans, having no sting that we can feel. This species probably occurs from Alaska to California, but there is no question that the Puget Sound/Strait of Georgia region is the epicenter of its population on the west coast.
Aequorea is the only jellyfish along the west coast for which there has been a fishery, but Aequorea was in demand for its bioluminescent properties, not as a food. When mechanically stimulated in the dark, as by an oar moving through the water at night, Aequorea responds with a bright but short-lived flash of blue-green light. There are many different bioluminescent organisms in Puget Sound waters in the summer, but Aequorea is one of the largest and most common and is responsible for many of the large flashing images seen by night-time adventurers out on the Sound.
From the mid-1960s to the mid-1980s, many, many Aequorea jellyfish were collected in late summer by scientists in Puget Sound, who extracted two proteins responsible for its bioluminescence. These two substances combine in the living animal to produce the light it emits when stimulated. As it turns out, both of these quite-different biological substances have subsequently been purified and cloned and are now artificially produced in the lab. Some of the stories about glow-in-the-dark rabbits, monkeys, and tobacco plants result from the incorporation of these proteins derived from Aequorea into otherwise normal, unrelated animals and plants. You can see Aequorea's bioluminescence up close by holding a jellyfish in the palm of your hand (it won't sting you) in the dark and gently shaking it. Several other small jellyfish in Puget Sound are also bioluminescent.
Aequorea jellyfish used to be so common in some local bays that it sometimes seemed that you could walk on them. They have become relatively scarce in the 1990s and early 2000s and we do not know why - this change does not seem to be due to overcollection, although we cannot be sure.
For more information about Aequorea victoria, see Claudia Mills' website at http://faculty.washington.edu/cemills/Aequorea.html.
September 1, 1999, The Journal of the San Juan Islands, p. 5A.
Purple varnish clam - a new alien
by Claudia Mills
Despite the hoopla over the European green crab supposedly arriving in the Islands, the purple varnish clam has already arrived from its Asian home shores. It is setting up shop by quietly colonizing beaches throughout San Juan County, presumably having first arrived as planktonic larvae in a ship's ballast water.
The purple varnish clam, native to Japan and Korea, was first collected in 1991 by shell enthusiasts at White Rock, B.C., just north of the border. It rapidly spread throughout the Strait of Georgia so that within a few years it was common all the way to Parksville. The clam was discovered in San Juan County in November 1997 by Kay Kohler of the SJ County Health Department, while she was collecting shellfish at Eastsound for routine paralytic shellfish toxin samples. She brought specimens to the University of Washington Friday Harbor Laboratories, where it was identified. In hindsight, two county residents remember seeing it as early as 1993, but had no way of knowing that it was a recent invader.
Claudia Mills of the UW Labs has determined that the purple varnish clam occurs on at least 30 beaches in San Juan County - on Shaw, Lopez, San Juan, Orcas, Waldron and Sucia Islands. She has taken on the clam's invasion as a project for the next several years and is mapping its locations and studying aspects of its biology. It is now known to occur from the Canadian border south to Padilla Bay and in one site in Fidalgo Bay near Anacortes. In addition to the San Juans, it has been found at several sites along the Strait of Juan de Fuca, in Jefferson County as far south as Port Ludlow, as well as at Hansville on the Kitsap Peninsula. Although it is known from only one site on Whidbey Island, it is expected to widen its distribution and progress southward into Puget Sound and Hood Canal.
The purple varnish clam lives quite high on stony or sandy beaches, usually on the mid-height intertidal slope, well above our familiar littleneck clam. In a few places it is already extremely abundant, reaching densities of 700 per square meter, but most places in the county the population is closer to 10 or fewer clams per square meter, at least for now. Since it lives so high on the beach, it may not affect other clam populations too seriously, but the nature of its interactions with other species is still not known.
The purple varnish clam is reputedly edible. On the other hand, it is not marketed in its native Japan, so it is not considered choice in a society that prizes seafood. Locally, just like other shellfish, it seasonally stores paralytic shellfish toxin, so the purple varnish clam should not be eaten in the summer months or whenever beaches are generally closed to clamming. The PST/Red Tide hotline number is 1-800-562-5632 and should always be consulted before you dig clams of any kind.
Should we be alarmed by the presence of this invading alien on our shores? For perspective on this kind of question, one should remember that some of our favorite shellfish are themselves not really native but were introduced artificially and are now appreciated. Japanese oysters were imported for culture a century ago and have naturalized in some places including Hood Canal. The tasty Manila clam arrived accidentally with these oysters in the 1920s and now coexists on Washington beaches beside our native littleneck; until recently this popular clam was even planted intentionally by state shellfish biologists in beach-enhancement projects. Will the purple varnish clam become a similarly harmless addition or will it cause mischief on our beaches? Is there any way to stop its invasion?
The purple varnish clam clearly finds Washington beaches suitable for setting up house, and it also reproduces well in these waters. There is no way to prevent its tiny embryos from flowing with the currents. So the species is unquestionably here to stay. With any luck, it will not become a nuisance; in years to come it may even become a marketable resource. Until then we can simply watch it inexorably move in upon us.
Figure legend: The Purple varnish clam (Nuttallia obscurata) has a fairly flat shell up to about two inches across. It has a distinctive brown outer coating or skin-like layer, that peels like old varnish. The inside of the empty shell is usually purple in color (especially when wet), like a mussel shell but unlike any other clam on Washington beaches.
Read more about this clam on Claudia Mills' homepage at http://faculty.washington.edu/cemills/Nuttallia.html. If you have seen this clam around the county, especially on outlying islands, she would like to hear about it.
July 21, 1999, The Journal of the San Juan Islands, p. .
No proof green crab creeps islands' shores
by Claudia Mills
In last week's Journal, some confusion led to a report of Atlantic green crabs in San Juan County. To my knowledge and that of green crab experts on the west coast, no green crabs have yet been found outside of Willapa Bay and Gray's Harbor in this state. Since it is difficult to get a straight story about green crabs in Washington amidst dire predictions, I am summarizing the present situation and providing some accurate information.
The green crab Carcinus maenas (which may be green or orange or red, with blotches of yellow - as are some native crabs) is native to Atlantic European coastlines, but was accidentally introduced via ship traffic to New England by the early 1800s. It now undoubtedly plays a major role in the ecology of the New England shore, but since that region was little-studied prior to the crab's arrival, its impact on the original ecosystem is unclear. The green crab arrived in Australia by 1900 and in the past two decades has turned up in South Africa, Japan and the west coast of North America. Outside of its native Europe, it is considered an unwelcome pest everywhere but Japan, where it is embraced as a new food fishery. Green crabs may be transported in ships' ballast water and possibly in ships' sea chests, and also with seaweed packed around bait-worm shipments and lobsters. New genetic techniques have recently allowed scientists to trace the geographic sources of each of these invasions.
The green crab is a fairly large shore crab (shell to three inches across), known to be a tough fighter and general predator, and is assumed to pose a threat to several native crabs including other shore crabs and the commercial Dungeness crab, as well as to a variety of shellfish including those being cultured commercially. It is tolerant of a wide range of water temperatures and salinities.
A fair amount of anxiety has been stirred up about potential damage to fisheries that might result from establishment of green crabs in Washington waters. This crab has been present in central California since 1989, yet data about its ecological effect there is sketchy and remains largely unpublished. The possible disastrous consequences of its presence have been speculated upon by several prominent invasion scientists and those dire warnings appear now on nearly every green crab web page. Other credible scientists think it may be no more aggressive and voracious than some of our native crabs. Its effect here will be dependent on how abundant it eventually becomes.
The first green crab in Washington was found in June 1998 in Willapa Bay by a visiting California scientist. Emotion runs so high about this crab that he was initially accused of planting the specimen. His find was vindicated within a few weeks when Washington fisheries scientists found several more specimens. According to Scott Smith, Washington State Aquatic Nuisance Species Coordinator, several hundred green crabs have now been trapped in both Willlapa Bay and Grays Harbor, but none has been found elsewhere in Washington, although the trapping effort is much more widespread. The first green crabs in British Columbia were found in Barkley Sound on Vancouver Island last month, setting off alarms. So far, Washington's shellfish industry has been spared any effects attributable to green crabs, possibly because of the vigilant trapping project now in place.
It is illegal to possess a green crab in Washington without a permit - although state officials would like to be notified of any sightings, one is not allowed to pick up the offender. I find this rule counterproductive, considering the general public's inability to positively identify a green crab at this time. Plenty of false reports have come in, but one of these days someone will find the first green crab in our inland waters.
Although most feel the San Juans are remote and pristine, we are a dead-on target for marine species invading through the Strait of Juan de Fuca and already have several common exotic marine organisms from Asia and the Atlantic living comfortably on our shores. It probably takes multiple inoculations before a species finally becomes established in a new place. While we may be fated to host the Atlantic green crab, it apparently isn't here yet and its impact is difficult to predict. With any luck, its favorite prey will be the thin-shelled, purple-varnish clam, which arrived on many county beaches from Asia within the last 5 years.
Claudia Mills is a scientist at the UW Friday Harbor Laboratories who has been studying marine organisms in Washington for more than 25 years and has been doing field surveys on non-native marine species on the west coast since 1993.
November 5, 1997, The Journal of the San Juan Islands, p. 7A.
Establish more reserves to protect bottom fish and angling
by Claudia Mills
Last month I attended a talk in Friday Harbor by Wayne Palsson of the Washington State Department of Fish and Wildlife on the status of bottomfish in San Juan County and elsewhere in lower Puget Sound. Mr. Palsson painted a pretty grim picture of the future of rockfish, lingcod and other territorial bottomfish in the greater Puget Sound region, with the only bright point of light being at the Edmonds Underwater Preserve, which has been a no-take refuge for 25 years. It is basically the only place in Puget Sound where there are still large bottomfish, and the bigger the fish, the bigger its reproductive output in terms of numbers of eggs. A very preliminary recent set of observations indicates there were more juvenile rockfish within a couple of miles of the Edmonds Park than elsewhere in Puget Sound (where rockfish recruitment was very poor).
San Juan County has recently adopted a set of eight small, voluntary no-fishing areas around its periphery. The areas chosen all used to be prime spots for bottomfish such as lingcod and rockfish, but are agreed to be fished out, and so were selected as a totally painless conservation measure. The voluntary nature of the new reserves leaves them highly susceptible to a few non-cooperators once fish begin to return. Combining the eight new voluntary reserves with the five mandatory no-take areas established in 1990, Mr. Palsson estimates that 2 percent of the 400 mile near-shore habitat of San Juan County is now in reserves, but that much less than 1 percent of the reef habitat suitable for rockfish and lingcod is actually protected. I am concerned that amongst great fanfare, we have established a lightweight, feel-good program that is not sufficient to actually save the bottomfish of the San Juan Archipelago.
Last summer I attended an international meeting of about 1,300 conservation biologists in Victoria, with three days of talks focused on issues of marine resource protection. Over and over, audiences were shown what one speaker called a "fish graph," showing high fish stocks (of any fish, nearly anywhere in the world) in the 1960s and 1970s, followed by a precipitous decline to very low and stable stock levels today. The over-fishing problem is global. The situation is especially desperate in areas of great poverty where the fish are really needed for food and income. I did not hear any speaker say that things were improving anywhere in the world's oceans.
We are among the richer communities in the world by any global standard. Most recreational fishers here pay far more per pound for fish they catch than for fish or meat that they buy. We are lucky in that our fish populations have held up longer than those in places where fishing provided livelihood and indispensable protein for many. But we are now at a crossroads. Mr. Palsson's data were pretty clear that no-take marine protected areas seem to be the only measures that work in conserving West Coast bottomfishes. Our eight new no-take areas are most likely to enhance fishing for only a mile or two on either side, leaving most of the San Juan shorelines at risk for continuing declines in bottomfish. Without more reserves, we may soon be facing years of no fishing at all.
The sport fishing community in San Juan County needs to seriously ask themselves what they like about fishing. It is my guess that most people's reasons for fishing include being out on the water, hunting for fish, and catching fish, and that eating fish is not at the very top of the list. If we continue on our current trajectory, I would imagine that within five years, there will be long no-fishing periods in order to preserve heavily depleted local stocks. If what you like about fishing includes "being out there with a line in the water," please consider actively petitioning the San Juan County Commissioners and Marine Resources Committee, or the Washington State Department of Fish and Wildlife for serious measures that can really protect our fish, while at the same time protecting fishing as a community-sanctioned activity. The lawmakers could use some support in trying to solve this highly-charged, but very real problem.
There is little question that bottomfish in the San Juans are declining. There is also no question that our population is growing and that sportfishing is a favorite pastime for many residents and visitors. Fishing pressure from both anglers and scuba divers is not likely to decrease in the foreseeable future. I would guess that we need to reserve 1/4 to 1/2 of the coastline for fish protection. Although this may seem preposterous to many, it is much less dire than closure of recreational fishing for months or years at a time, and that may be the only other solution.
Bottomfish in the San Juan Islands are not an inexhaustible resource and the recreational fishing community needs to become far more active in protecting the fish and fishing they love. It is easy for fishers to delude themselves that there are still plenty of fish and that the people who don't catch fish just don't know how to. It used to be that anyone could catch fish ­ from a rowboat, without a fishfinder, and with very little special knowledge.
Please think about this ­ if fishing is one of your favorite activities, ask yourself what you like about it and what you should be doing to be sure that you can keep fishing for years to come. Painless measures are probably not sufficient. Fishing in fewer places would be a lot more fun than not fishing at all ­ especially if we knew that the reserves were working, allowing fish to reach the sizes they were only 10 to 20 years ago.

February 14, 1996, The Journal of the San Juan Islands, p. 5A.
A brilliant solution for solving ferry traffic space problems.
(also published February 14, 1996 in The Islands' Sounder, p. A7
as Ferry reservation system beats more parking lots.)
At a recent open house, the obscurely named Intermodal Transportation Facilities Group unveiled its plan to vastly overhaul Friday Harbor's waterfront to manage ferry traffic into the future. One of the major shortcomings of this plan is the design of extravagant new facilities for stockpiling passengers and vehicles waiting for ferries.
After spending many hours trying to imagine a lower-impact solution to our transportation needs of the future, I now believe that the Information Age could solve some of the existing traffic problems. Rather than constructing more parking lots for cars awaiting their turn on the ferry, filling up most of the remaining empty space in Friday Harbor, I propose a VIRTUAL PARKING LOT (to use a term from cyberspace) in which information (vehicle identification and time of reservation) rather than cars would be queued, setting the real vehicles and people free to do what they like until it is their turn to board.
Although Washington State Ferries has balked in the past when the question of reservations has arisen, it should be pointed out that the ferry system already uses a kind of reservation system, and that the token for holding one's place in line is presently A CAR. With a bit of futuristic thinking, the barbarity of such a system becomes clear.
As a possible replacement to the present system, each driver could stop by a manned kiosk or place a phone call, declaring his intent to take the next available ferry and registering his place in line. The ferry line now becomes just a list somewhere and does not take up town real estate.
With his place in line secured, each driver can do what he likes, using his car, until perhaps 30 minutes before his scheduled sailing, at which time he must be parked in the ferry holding lot, which need only be large enough for one boatload of cars. An employee would verify that each car in the holding area is pre-registered.
Since packing of vehicles varies on each run and there must be room for vehicles with emergencies, perhaps each sailing would have out 10 "stand-by" spaces, to be assigned after the reserved cars are loaded, as the system sees fit. Unscheduled cars arriving at the last minute could still claim any empty spaces, as they do now.
This plan could work for all the islands. Everyone who lines up to use a ferry on San Juan, Orcas, Shaw and Lopez must already be on the island, and we would all still have equal access to the new queuing system. There is no question of special treatment for residents.
Some effort will be required to design a system that is not open to abuses such as line crashing, a black market in selling spaces in line, or favors passed out to friends by the person assigning spaces. (The only advantage to the present system that I can see is that cheating is pretty difficult.)
Instead of an architect who is trained to design structures, the Washington State Ferries System needs to hire an information specialist who is knowledgeable about modern technologies to design this new reservation system. The problem is really very simple; how to line up cars waiting for the ferry without using the actual cars. The savings of man-hours wasted waiting in line, and dollars spent on purchasing and constructing new parking lots would be enormous. The parking solution proposed in the present Intermodal Transportation Plan is right out of the 1950s. It is time to move into the 21st century, preserving our small-town character at the same time.
Claudia Mills is a resident of Friday Harbor. She takes an active interest in local issues.
---
** This page is maintained by C.E. Mills; established October 2002; last updated 7 July 2014 **
Mills Home | Hydromedusae | Aequorea| Stauromedusae | Ctenophores
List of Stauromedusae | List of Ctenophores
San Francisco Bay Expeditions | Puget Sound Expeditions | Olympic Coast Expeditions
Marine Conservation | Mills Publications | What's Happening
Marine Research Study Sites in the San Juan Islands
University of Washington San Juan Archipelago Biological Preserves
Centennial Historical Timeline of the Friday Harbor Labs