This month we say goodbye to part of the Becker Lab. It seems like yesterday when I posted about their arrival! Now that spring quarter is over, the students taking the ten-week research experience class have finished their projects and left the nest. But before we let them go, they presented their work at UWaTERS, the UW Tacoma Undergraduate Research Symposium.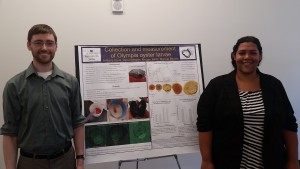 It is always so satisfying to see student projects come together. Given how short one quarter is, these guys did an amazing job pulling together their data. Both groups produced information that will help us as we dive into our main field work this summer.
The Lab Team, Jared and Brittany, took the photo I was hoping for: a settled Oly oyster shell with the brooded section marked with fluorescent dye. The Field Team, Hannah and Ly, demonstrated important demographic differences between our two major field sites, Fidalgo Bay and Dyes Inlet. Both did a great job representing their work and answering questions.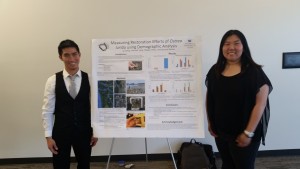 We are sad to see them go, but Ly, Hannah, and Jared have completed their capstones and are moving on to other things. I hope they will keep in touch and we'll be sure to poke them to volunteer for some muddy field work this summer. On the other hand, we are happy that Brittany will be staying with us this summer and beyond. She will be joining a team of three students who will be working in our lab over the summer supporting Megan with mountains of field work. I'll post an introductory blog post about them soon.
One more important update from the Becker Lab. At UWaTERS we learned that Brenda was awarded a Mary Cline Research Scholarship to support her research with the ocean acidification project. Congratulations, Brenda! We are so proud!