Current data from Island Southeast Asia and the Pacific suggest a chronological link between the development of fortified settlements and increased climate instability and drought beginning 800 years ago. Fortified settlements appear across much of Island Southeast Asia and the Pacific at this time. From 2003-2006, I excavated fortified sites in
East Timor
to explore spatial and chronological patterns of fortifications and test theories of their appearance. Currently I am focusing on gathering paleoclimate data from East Timor and Indonesia from the late Holocene, especially related to various cycles known to affect rainfall (ENSO, ICTZ, etc.) to further test possible associations and causal links to fort building.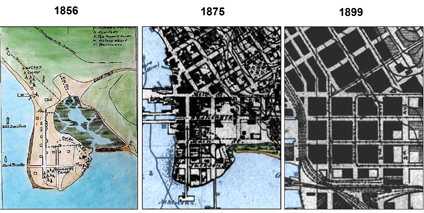 The Waterlines Project
This project traces the pre-19
th
century shorelines of the dramatically-altered Seattle waterfront and provides real and virtual exhibits about the changing landscapes of the area, drawing from archaeological, geological and documentary data. Current features include a website and exhibits in Seattle locations including
Milepost 31
. I have also been involved in the
Lake Union Underwater Archaeology Project
.
Puget Sound Traditional Foods
This 2003 project evaluated diet from archaeological sites in the Puget Sound region as a step toward revitalization of contemporary traditional foodways for Native people suffering from diabetes. Website includes faunal and floral species information. Some of our results are incorporated in the
Salish Bounty exhibit
, at the Burke Museum January 28 - June 12, 2012 and now
touring the US
.
Burke Museum
Check the Burke website for archaeology public events, exhibits and activities, as well as collections research opportunities and cultural resource management services.