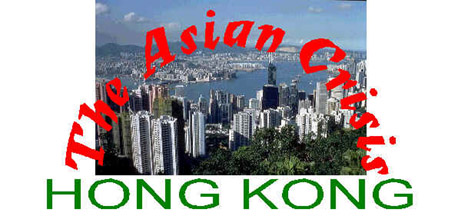 "Hong Kong becomes a Special Administrative Region (SAR) of the People's Republic of China on July 1, 1997 in accordance with the 1984 Sino-British Joint Declaration. It is composed of three geographic areas: the New Territories, Kowloon Peninsula, and Hong Kong Island. Hong Kong (SAR) is cosmopolitan and highly developed. Tourist facilities and services are widely available."
- US State Department.

Hong Kong Economy and the Asian Crisis:
chronology
the economy
a report (included in a manuscript)
articles and commentaries
links
some photos of Hong Kong
---
| Asian Home Page | Conferences on Growth and Trade | Kar-yiu's home page |
| Kar-yiu's books on growth and trade | Kar-yiu's papers on growth and trade |
If you have comments, information about this crisis and the countries, please click here, or if you have papers on Asian growth that you want to be included in the economics papers section, please click here.
This page was last revised on November 16, 1998.