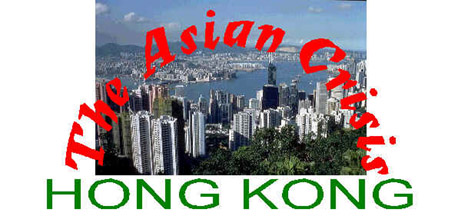 chronology

Ming Chien Lo and Jerry Chow are the main contributors of the material on this page.

Early 1997 – Red chips stocks (stocks of HK listed companies controlled by powerful Mainland Chinese state entities) surges drastically, together with other stocks. Hong Kong 1997 first quarter RGDP growth rate is 6.1%, higher than the expected 5.5%. [DJIN, August 4]
May-June 1997 – An example of the current stock market with the so-called "red chip feast": Beijing Enterprises sold 125 million shares to investors at $HK12.48 ($1.60) each. Applications were made for 1,276 times more shares then were available. [FEER, June 5] Hong Kong stock market's capitalization has soared to $500 billion. [BW, June 9] Blue chips of Heng Seng Index only accounted for about 30% of the volume. [FEER, June 12]
Late June 1997 – There are rumors that China will clamp down on red chips which prompted many investors to sell. China's commercial banks were banned from providing bank loans for stock-market speculation. [Economist, June 14] It is also known that during the past month, the Securities and Futures Commission (SFC) has carried out first a regulatory inquiries and then a formal investigations to mainland-linked companies listed in Hong Kong concerning potential market manipulation. [FEER, June 26]
July 1, 1997 -- Hong Kong becomes a Special Administrative Region (SAR) under China. Both China and the local governments promised to maintain pegging HK dollars with USD at the rate of HK$7.8 to US$1.00.
Mid-July 1997 -- There is a speculation targeting HK dollars. In response, Hong Kong Monetary Authority (HKMA) spent at least US$1 billion of its reserve (US$81 billion) to defend the local currency. The Financial Secretary Donald Tsang claimed that the "so-called crisis" was basically over. [DJIN, August 23]
Summer 1997 -- Business executives in Hong Kong are suggesting that monetary authorities would gradually and quietly loosen the peg in 1998 to give Hong Kong a competitive lift. [BW, November 10]
September 8, 1997 -- Before his trip in the United States (September 8-12), HKSAR Chief Executive C. H. Tung reassures the public that HK dollars will remain pegged with US dollars. [BW, September 8]
Late September 1997 -- Stock market has its most volatile week ever. HK dollars stay strong but under pressure. [FEER, September 25; DJIN, September 26]
October 1997 -- Financial crisis broke out in Southeast Asia. Hong Kong is calm at the beginning, but finally Heng Seng Index dropped by 23% between October 20 and October 23. [Economist, October 25] Interest rates soared in defense of the local currency. HKMA once pushed the overnight interbank loan rates up to 300%. Both China and HKSAR governments promised to protect the peg of HK and US dollars with $88 billion reserve in Hong Kong and $120 billion in China (made available for HKSAR.) [BW, November 10]
References:
BW - Business Week
DJIN - Dow Jones International News
Economist - The Economist
FEER - Far East Economic Review
---
| Conferences on Growth and Trade | Kar-yiu's home page |
| Kar-yiu's books on growth and trade | Kar-yiu's papers on growth and trade |
If you have comments, information about this crisis and the countries, please click here, or if you have papers on Asian growth that you want to be included in the economics papers section, please click here.
This page was last revised on September 09, 1998.