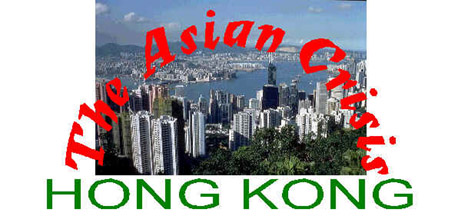 the economy



1. Basic Statistics
some data (from Hong Kong Census and Statistics Department)
| | | | |
| --- | --- | --- | --- |
| | Expenditure- | Per capita | Implicit price |
| | based real GDP | real GDP | GDP deflator |
| | (HK$ mn) | (HK$) | (1990 = 100) |
| 1992 | 650,347 | 112,119 | 119.8 |
| 1993 | 690,223 | 116,967 | 130.0 |
| 1994 | 727,506 | 120,540 | 139.0 |
| 1995# | 755,832 | 122,778 | 142.5 |
| 1996# | 793,681 | 125,762 | 150.2 |
| | # - estimated | | |
External Trade Statistics (HK$ million)

Domestic

Merchandise

Import

exports

Re-exports

Total exports

trade balance

1993

1,072,597

223,027

823,224

1,046,250

-26,347

1994

1,250,709

222,092

947,921

1,170,013

-80,695

1995

1,491,121

231,657

1,112,470

1,344,127

-146,994

1996

1,535,582

212,160

1,185,758

1,397,917

-137,664

1997

1,615,090

211,410

1,244,539

1,455,949

-159,141
(HK$7.8 = US$1)
2. Previous Work
See Chou and Wong (1997) for
a summary of Hong Kong's growth record;
a summary of the estimates of the total factor productivity growth of Hong Kong by Young, Kim and Lau, and Färe and Grosskopf;
a new estimate of the factors of growth of Hong Kong.
See Sung and Wong (1997) for
an estimate of the contribution of China to Hong Kong's growth in terms of foreign direct investment in China, shrinkage of the local manufacturing sector, and immigration from China
how the China factor may change after the reversion of Hong Kong to China
Click for a risk report.
---
| Conferences on Growth and Trade | Kar-yiu's home page |
| Kar-yiu's books on growth and trade | Kar-yiu's papers on growth and trade |
If you have comments, information about this crisis and the countries, please click here, or if you have papers on Asian growth that you want to be included in the economics papers section, please click here.
This page was last revised on September 09, 1998.