Jonathan M. Karpoff's Personal Home Page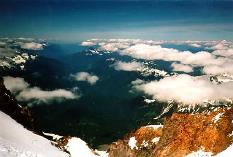 This picture was taken on the way up Glacier Peak. If you stare into the picture long enough you will feel like you are soaring above the clouds – just like you are climbing. Of course, if you stare into the picture that long you probably should be doing something else.
• Check out my page on Adventure Skate Skiing. Then try it. You'll never be the same.
***TRIP REPORTS***
Here are some stories and pictures from rambling and climbing in the Cascade Mountains. I post as "Roald". Also, the "UW Medical Center" trip report explains why the number of reports have decreased these past several years.
• 2010-2016 trip reports
The Winds Play Stormy Weather, Sept 17-19, 2013 – the Baddest Storm. Ever.
Jasper, Alberta to Mt. Robson Provincial Park, BC, Sept 3-7, 2012 – "I hate Canada."

Bonanza Peak, July 13, 2012 (pics taken by Eric, but no trip report)

Tupshin, Devore, and Flora Mountains , August 4-7, 2011 – "Hey, it's Stehekin!"

Ptarmigan Traverse on skis, July 9-12, 2011 – Crikey indeed.

– Ptarmigan Traverse trip report by climbing partner Eric (the better trip report!)

Mt. Goode (NE Buttress) and Storm King Mountain – Nettles and bonehead decisions. And a runaway boot and cowboy walking.
• The most important trip report ever, Dec. 2009 - Jan. 2010
• Earlier trip reports
Heat exhaustion on Luahna - a bushwhacking allegory

Pasayten rambling - the "A" Team gets Lost

Second annual ski to Trinity - distance inflation: maybe it's 46 miles, not 44!
Sherpa and Argonaut Peaks - it's about the gear

Copper and Fernow Mountains - a story of ice cream

Ski to Trinity - both metaphor and 44 miles

Earl Peak ski - posted by skiing partner Randy (I am the one carrying the orange shovel)

Mt Dickerman snowshoe - posted by hiking partner Mark, with his cool video
• Trip reports from my "50 at 50" climbing project in 2007, in which I aimed to climb 27 of Washington's Top 100 mountains in one summer:
Other stuff:
Climbs, hikes, and mountain bike rides Older pictures of some outings in the Cascade and Olympic Mountains of Washington state.
Stories of gonzo (well, sort of) mountaineering.
Great links to interesting and important stuff