Las Colinas Peoplemover Infopage
---
Las Colinas is a 12,000 acre master-planned community located near the Dallas/Fort Worth International Airport in Texas. A location map and four aerial photos provide an overview of this complex. A people mover system was included in the Los Colinas development from the beginning. Phase I of this system has been constructed . It consists of a 1.4 mile (2.3 km) dual lane guideway that includes 4 stations. The long term plan called for a total of 5 miles (8 km) of dual lane guideway and a 20 stations. The four vehicles that operated during Phase I could carry 45 passengers comfortably, 33 standing and 12 seated. The cost of Phase I is reported to be $45 million which included 5 years of operation and maintenance by the vendor (Lynch, 1989). More detailed cost data are not available.
The Phase I line opened in 1989 and has not been extended. A diagram of the route layout and stations for Phase I and the planned extensions is provided. Little new real estate development has occurred in Las Colinas during recent years so there has not yet been any need to extend the system. The long term plan calls for three inner loops and one large outer loop. Transfers between these loops would occur at center platform stations which would allow for a simple cross-platform transfer for the rider.
This system was shut down in July, 1993 for 3 years and 4 months. During this down time, the District retained one service technician to maintain the system in a "mothball" state. This minimized start-up costs and re-activation time. Operations were resumed in December, 1996, but are limited to the lunch hours of 10:30 a.m. to 2 p.m., Monday through Friday. As of June, 1997 the occupancy rate at the Las Colinas Urban Center was extremely high.
As shown in the photos below, the system was designed to pass through a retail area that features a canal and many pleasant pedestrian areas. The guideway was along the top of the buildings in this area so it is barely visible. It is much more visible in other parts of the complex.
---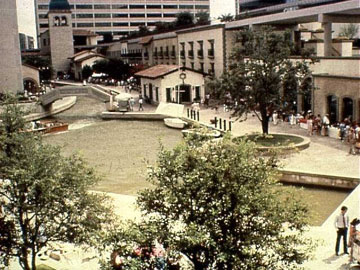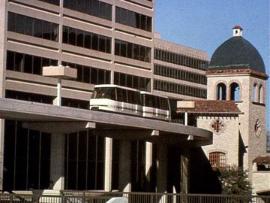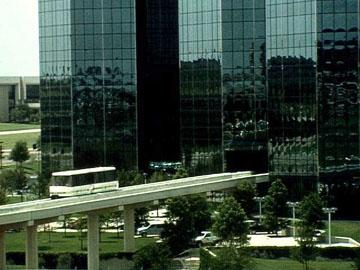 ---
Three additional photos of the peoplemover system are also provided. More recently (2002), Jon Bell has posted
ten excellent photos of various parts of the Las Colinas Urban Center and the Automated Peoplemover system located there.
---
Three papers were published in 1989 that describe the details of the Las Colinas people mover development and operation at that time. They are as follows:
Stanford W. Lynch, Deep in the Heart of Texas - the Las Colinas Area Personal Transit
Terry A. Nettles, The Las Colinas Area Personal Transit Guideway Development, Design and Construction
John W. Kapala, Las Colinas Area Personal Transit System - A Challenge Met
These papers are included in Automated Peoplemovers II, New Links for Land Use-Automated Peoplemover Opportunities for Major Activity Centers, Edited by Bondada, Sproule and Neumann, American Society of Civil Engineers: New York, 1989, 971-1011.
A paper by the founder of Las Colinas (Ben H. Carpenter) has also been published. It was the keynote presentation at the APM IV conference held in Las Colinas in 1993. The title is Las Colinas: Reflections From Its Founder, Automated Peoplemovers IV, Enhancing Values in Major Activity Centers, edited by Sproule, Neumann and Bondada, American Society of Civil Engineers:New York, 1993, 9-21.
Most recently (2001), a book entitled Las Colinas: The Inside Story of America's Premier Urban Development has been published and is currently available. To see information about the contents of this book that describe the Automated Peoplemover, it's role in the development concept and its current status, click HERE.
For current information on the status of this system, contact: Operations Manager, Dallas County Utility and Reclamation, P.O. Box 140035, Irving, Texas 75014-0035, Phone: (972) 556-0625; fax: (972) 869-4459
---

---
Last modified: December 23, 2014