---
Current Applications for Fluidized Bed Reactors
---
FBRs are everywhere in the Process Industries. They find broad use in the petroleum and petrochemical industries, as well as numerous chemical industries.
---
Petroleum Applications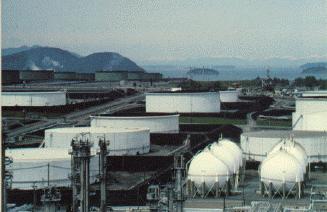 Copyright, Texaco 1990
---
Most of the products below are either fuels or are used in the manufacturing of fuels.
Gasolines
Aviation Fuel
Diesel Feedstocks
Jet Fuel Feedstocks
Propane
Butane
Propylene ; For Liquified Petroleum Gas (LPG) and Butanes
Butylene ; For Liquified Petroleum Gas (LPG) and Butanes
Isobutane
Cracked Naptha
Gasoline from Methanol
Fuel Oils from Polyethylene
---
Petrochemical Applications
---
While fuels from petroleum processing are the major applications of FBR technology, there are numerous other applications, from Plastics to Rubber.
Acetone Recovery
Aniline
Aniline from Nitrobenzene
Ethanol from Butadiene
Polyethylene
Hydrogen from Steam
Coal Gasification
Styrenes from Hydrocarbons
Cracking of Methylcyclohexane
Maleic Anhydride
Maleic Anhydride from Benzene and Butylenes
Vinyl Chloride
Vulcanization of Rubber
---
Other Applications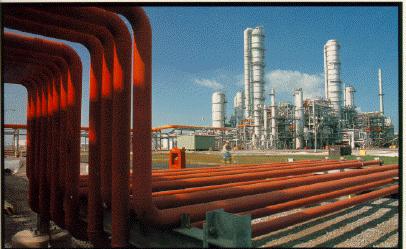 Copyright, Chevron 1990
---
Here are some other applications of FBR technology.
Fertilizers from Coal
Oil Decontamination of Sand
Industrial and Municipal Waste Treatment
Radioactive Waste Solidification
---
Go to Top of Page.
---
Doug Thornhill