The History of FBRs
In the early 1900's, the Standard Oil Company, then the largest oil company in the world, was using temperature distillation and thermal cracking to refine crude oil into different products; such as, kerosene, fuel oils and lubricants. At the same time, Standard was researching alternative methods of "cracking" the lower value long-chain crude oil molecules into the high value smaller molecules of the fuel and lubricant products.
It wasn't until the mid-1920's that there was a significant breakthrough allowing the development of a better "cracking" unit. In Europe at this point, advances in catalyst technologies were being used to convert coal into oil.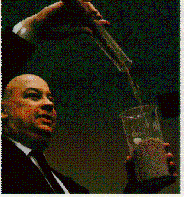 Copyright, Unocal 1990

An array of different catalyst types
Copyright, Unocal 1990
In 1936, a process was developed called the Houdry Process. It used a fixed-bed catalyst to "crack" petroleum molecules. In this process the catalyst was prone to coking. This required that the coke deposits be burned off periodically. For the first Houdry cracking unit, the time required to burn off (regenerate) the coke was equal to the time the unit had been running. That is, for every ten minutes of cracking time, there was a ten-minute regeneration time. However, this was not the only problem with the Houdry Process. The Houdry Process had a license fee of $53M, roughly $600M in today's dollars. Needless to say, Exxon Research (a descendent of Standard Oil) thought they could do better than that.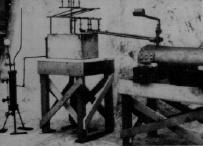 Late 1930's prototype catalytic cracking unit
Copyright, Exxon 1993
In 1938, Exxon Research joined a consortium of large oil and processing companies to further develop the catalytic "cracking" process. They eventually came up with the concept of a moving bed of catalyst.
The moving bed was termed "fluidized", as it moved and had properties analogous to a fluid. While regeneration still required shutting down the process, there were a number of benefits associated with the new process. When used for gasoline production this type of process delivered higher octane gasoline and increased production as compared to the previously mentioned Houdry units.
The first production facility using the fluidized bed concept for the catalytic cracking of petroleum feedstocks came online at 2:25am on May 25, 1942.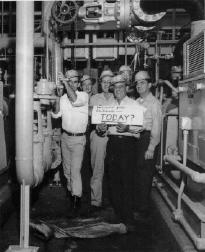 Exxon's Catalytic Cracking Unit Startup - Baton Rouge, 1942
Copyright, Exxon 1993
---