December 19, 2005

International experts are warning of an upcoming, worldwide surge in the number of people affected by Alzheimer's disease and other forms of dementia.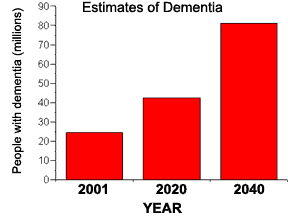 The experts estimate that 24.3 million people are currently affected by dementia. Every year there are 4.6 million new cases of dementia. This is equivalent to one new case of dementia every seven seconds.
By 2020, the number of cases is estimated to total 42.3 million and by 2040, an estimated 81.1 million people will have dementia. In Europe and North America, the number of dementia cases will increase by about 100% between 2001 and 2040. However, in Latin America, North Africa, China, India, Indonesia, Thailand and Sri Lanka, the number of cases of dementia is projected to increase by at least 300% during this same time period.
It is time for governments and health organizations to acknowledge this potential crisis and to make plans to take care of people who will suffer from dementia. It may also be time to devote additional research efforts to find ways to prevent, treat and cure Alzheimer's disease.