July 19, 2004

HELMETS: skateboarders, rollerskaters, in-line skaters, skiers and snowboarders wear them. Should ice skaters be added to the list? Researchers, led by Jennifer McGeehan in the Department of Pediatrics at The Ohio State University, think so.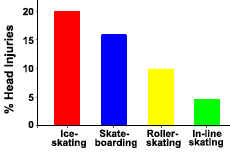 Proportion of Injuries
to the Head

McGeehan and her colleagues compared the injuries that occurred to 419 children (1 to 18 years old) who were ice-skating, rollerskating, in-line skating or skateboarding. Most ice-skating injuries were to the face (23 of 60 cases; 38.3%) and head (12 of 60 injuries; 20%). Children less than 6 years old experienced a higher proportion (8 of 9 cases; 88.9%) of head or face injuries while ice-skating than older children (27 of 51 cases; 52.9%).

Most skateboarding injuries occurred to the arms and hands (14 of 44 cases; 32.8%) and legs (11 of 44 cases; 25.1%). Head injuries accounted for 7 of 44 (15.9%) of the skateboarding injuries. The age pattern of skateboarders' head and face injuries was similar to that of ice-skaters' head injuries: children younger than 6 years old had more frequent head injuries (5 of 8 cases; 62.5%) than older children (12 of 36 cases; 33.3% ).

Rollerskating and in-line skating injuries most frequently involved the legs and arms. Only 13 of 131 (9.9%) rollerskating injuries and 9 of 184 (4.9%) in-line skating injuries involved the head.
These data show that ice-skaters sustain more frequent injuries to the head than skateboarders, in-line skaters and rollerskaters. The researchers suggest that ice-skaters (and skateboarders) may fall differently than rollerskaters and in-line skaters. Rollerskaters and in-line skaters appear to fall forward and try to protect themselves by falling on their arms. Ice-skaters and skateboarders may fall sideways or backwards and therefore, injure their heads. Young children may be at a higher risk for head injuries because they have a higher center of gravity and fall over headfirst. Also, the researchers state that young children may not have the arm strength to stop themselves to avoid a head injury when they fall.
Because of the high proportion of head injuries among ice-skaters, the researchers conclude:
"Children should wear helmets during recreational ice-skating."