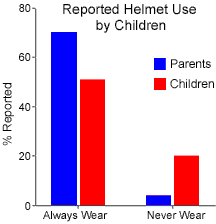 June 4, 2004

Helmets protect your brain -- most children and adults would agree on that. In fact, research has shown that wearing bike helmets can reduce the risk of head injury up to 85%. But how often do kids wear their bike helmets and do parents know how often their kids are wearing those shiny "brain buckets?" New research suggests that kids are not wearing helmets are often as their parents think.

Researchers at West Virginia University surveyed 329 fourth- and fifth-grade students and their parents or guardians about bike helmet use. Almost all parents (97%) and children (87%) agreed that kids should wear bike helmets when riding. That's where the agreement ended.

Most (70%) parents reported that their children always wore a helmet when bike riding. However, only 51% of the children said that they always wore a helmet when bike riding. A few (4%) parents said that their children never used a helmet, but 20% of the children admitted that they never wore a bike helmet.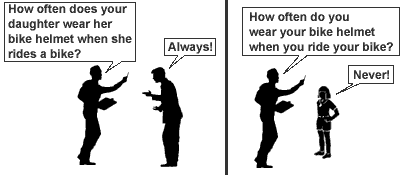 The use of bike helmets by children appears to be linked to their parents' use of helmets. Of those children who said that they never wore bike helmets, 88% of them had parents who also said that they never used bike helmets. Most (70%) kids who rode bikes with their parents wore helmets; only 40% of the kids wore helmets when they did not ride with their parents.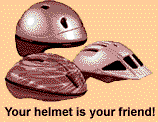 Do you believe the parents or the kids? Do parents overestimate how often their children are wearing bike helmets? The researchers say that the data provided by the children agree with those of other national and state studies. Although it may be worthwhile to observe and count how often children are wearing helmets while riding their bikes, this study suggests children are not wearing their helmets as often as their parents think.
Sure, parents nag kids to wear bike helmets. But it's because they want to protect their kids from a head injury. Everyone should want to protect their brain! You only have one!