September 2, 2003
Maria Teresa has a hearing aid to help with hearing loss that was discovered after the August 5, 2002 surgery. The twins are still living in Guatemala, where UCLA surgeons visit from time to time. In April of 2003, surgeons visited the twins to deal with an infection that Maria Teresa was fighting. She had E. coli meningitis that was treated with antibiotics. (More about meningitis from the Centers for Disease Control and Prevention.) A month later, the girls returned to UCLA's Mattel Children's Hospital for an evaluation.
While at UCLA, Maria Teresa, as a result of the meningitis, had to have a replacement shunt placed in her brain to drain excess fluid away from her brain. The Mattel Children's Hospital explains:
"As a result of last year's separation surgery, the cerebral spinal fluid in Maria Teresa's brain cannot flow normally through the drainage veins at the base of her head. UCLA doctors installed the shunt to help her veins manage the extra fluid. When Maria Teresa contracted E. Coli meningitis in Guatemala in April, the shunt became infected."
On July 25, 2003, at UCLA, the girls celebrated their second birthday. Now both girls are in stable health and continuing to develop, although Maria Teresa's development trails that of her sister. Both continue physical therapy and occupational therapy. In the future, both will need more plastic surgery to "improve the shape of their skull caps and normalize their hair patterns," according to lead plastic surgeon Terry Kawamoto of UCLA.
Twins leave the hospital.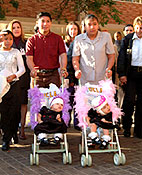 Photo courtesy of Mattel Children's Hospital, UCLA. Copyright 2003, University of California, Los Angeles