Using the Internet for Brain Awareness Week
Eric H. Chudler, Ph.D.; e-mail: chudler@u.washington.edu
University of Washington; Seattle, WA
Brain Awareness Week (BAW) is a time for neuroscientists to get out of the lab and to interact with the public. The Internet is a powerful resource that can be used to communicate with the public during BAW and to provide information related to BAW activities. This article outlines several ways that the Internet can be used to plan, coordinate and promote your BAW program.
1. Planning BAW Activities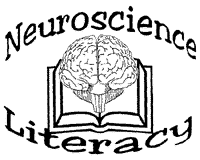 What is the best way to talk to public? How do you speak to K-12 students, teachers and the media? What activities make a successful BAW program? What have other groups and organizations tried? These questions and others like them are answered on various web sites. For example, the Society for Neuroscience (SfN) Public Education and Communication Committee has compiled several reports to assist neuroscientists who venture into K-12 classrooms.

The SFN also has advice for dealing with the media. It is a good idea to review this information if you will be talking to TV, radio or newspaper reporters during BAW.

Some neuroscientists have trouble deciding what to do during BAW, others want to try something new each year. Web sites that contain ideas, activities and demonstrations appropriate for a variety of audiences include:
2. Promoting BAW Activities
E-mail

Send invitations
Notify local schools, sponsors and university administrators about your BAW activities by sending an invitation by e-mail. Such an invitation is faster and less expensive than using the postal service. On the other hand, e-mail is considered by many to be more informal and less personal than a letter. Therefore, you should consider sending a hard copy, formal invitation to certain individuals.

Contact local media
Invitations to your BAW events can be sent to local television, radio and print media via e-mail. Some television and radio stations and newspapers will want a press release detailing your activities. This can also be distributed through e-mail.

Maintain contact with students, teachers and other members of the public
Notify people with information about your BAW program, driving instructions or changes to your program. This may be feasible only for those BAW programs with a small number of participants, although a "listserv" may be set up to distribute e-mail to a large number of people.

Your Own BAW Web Site

Creating a web site is not difficult. You may already have your own web site or your department or organization may be able to assist you in creating a new one. The ease with which the public can access the Internet makes the use of web sites especially valuable in promoting your BAW program. Your web site can be used to:

Alert the Public
Many organizations have lectures, laboratory tours and open houses during BAW. To alert the public to such events, organizations can create a web site describing the events. Information on the site should include the title/description, location and time of the event, sponsors, and contact information (e.g., e-mail address and phone number of BAW organizers). This information is essential for students and teachers who may want to attend your event. The site should be posted as soon as possible so people can make plans far in advance.

Posters and flyers can be located on your BAW web site for easy distribution to many people. These posters could contain information about the time, place, and title of BAW lectures. Encourage people to download the posters and to place them on bulletin boards or doors to advertise your events.

Your web site can also be used to notify people around the world about BAW activities located in other cities. By providing links to other BAW sites, you will be promoting BAW on a large scale. You can also share the URL (web site address) of your site with colleagues at other institutions. In exchange for promoting your site on their home page, you agree to link to their page on your home site. In other words,

"You link to my site; I will link to your site."

Invite the Public
Often public demand for BAW events exceeds an organization's ability to accommodate everyone. For these popular events, an organization may have to restrict participation to a limited number of people. It is possible to create a web site with an electronic "invitation" or application to gauge public interest for a particular BAW event. Such an electronic invitation can be in the form of an online application that can be returned to event organizers via e-mail or an offline application that people can print out and return to event organizers by regular mail.

Provide Information and Materials
If people must travel to your institution for BAW activities, they will need driving directions, parking instructions, and building/room information. Rather than mailing this information, you can post this information on your web site. You can even include maps on your web site for people coming by car or bus. Maps can also be used to help people find buildings and rooms in which BAW events will take place.

Some people who come to your program may have other questions. It is always a good idea to include an e-mail address of a contact person on all web sites, posters, newsletters, and flyers that will be distributed to the public. With the widespread use of e-mail, many inquiries about your BAW program can be answered at your own convenience. Of course, a telephone number of a contact person should be included for those individuals without e-mail access.

Because many people may not be able to attend your BAW program and you may not be able to accommodate everyone who is interested in attending , it is still possible for you to provide these people with BAW materials that you develop. For example, you can create neuroscience-related activities, games or lesson plans for teachers who are unable to come to your events. Promotional items, such as bookmarks, with your institution?s BAW logo can be distributed via web sites. If you do not have any materials to share via the web, you can always direct people to web resources with such material. Web sites with this type of material include:

Reward Sponsors
University and corporate support of BAW is essential to the development and maintenance of innovative BAW activities. Of course, fund raising is one of the most difficult aspects of developing outreach activities. One way to recruit potential sponsors is by rewarding them for their participation. The exposure that sponsors receive by having their name on all print material and web sites is often sufficient incentive for sponsorship. Furthermore, providing potential sponsors with estimates of the number of people who will be exposed to materials with their names may convince them to support your projects.

One strategy utilized by commercial web sites is a fee for posting sponsor banners or logos. Although I have never used this approach, some organizations and businesses may be more willing to contribute to your BAW activities if they know exactly what they will receive in return for their sponsorship. A fee schedule for banners of specific sizes for a specific time period may appeal to these potential sponsors. Make sure that your university or organization permits this type of "advertising" on web sites before using this method.
1. Maintain your web site
Your BAW web site should have current information about the time, place, and other details about your events. Last minute room changes or additional sponsors can be added to the site if necessary.
2. Answer questions from the public
Many people may use e-mail to ask questions about your BAW activities. These questions may focus on the suitability of your program for different age groups, the cost (if any) of the activities, and the location of various events. It is best to have someone available to answer these question promptly.

1. Follow up with people who attended your program
Ask attendees to send you e-mail with feedback concerning their experiences during BAW. This information should be used to improve your next BAW program.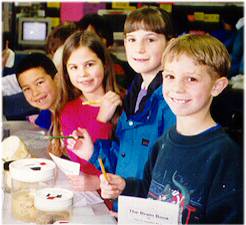 2. Use the BAW web site to describe your successful BAW
Photographs, student artwork, and comments can be used to highlight features of your BAW program. The BAW Open House at the University of Washington is a good example of how this can be accomplished.
3. Reward sponsors and recruit new ones
The time after BAW is an additional opportunity to reward your sponsors with continued acknowledgment of their support. In addition to hard copy thank-you letters to your sponsors, you may decide to keep banners and logos that refer to these organizations and companies. You may want their support next year. In the months after BAW, you may want to collect data concerning the number of visits your BAW web site received. These data may provide you with ammunition to approach these sponsors again and to secure new funding from other sources.

The Internet is filled with creative ideas for you to use during BAW. Web sites with activities and experiments to bring to classrooms, ideas for lectures, and past BAW exhibits can be viewed. The Internet also has the potential to promote your BAW to a wide audience. Your BAW program will be greatly enhanced by increased public awareness of your activities and increased sponsorship by using web sites and e-mail.