Estimated Number of Cases
of AD in the U.S. (millions)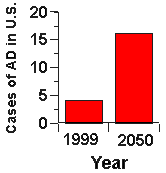 The researchers examined 6,989 people (2,795 men, 4,194 women) who were at least 55 years old and who did not show signs of AD at the start of the experiment. Each person was followed for approximately seven years to determine if he or she developed symptoms of AD. The scientists also checked the national pharmacy database to determine which NSAIDs each person had taken.

Of the 6,989 people who started the study, 293 developed AD and 101 developed other types of dementia. Those people who took NSAIDs were significantly less likely to develop AD compared with those people who did not take NSAIDs. Moreover, the longer someone had been taking NSAIDs, the less likely it was for them to get AD.

These data support the view that AD is the result of an inflammatory brain response. NSAIDs may prevent the development of inflammation in the brain and ward off the brain damaging effects of inflammation. However, these data do NOT provide evidence that NSAIDs are an effective treatment for someone who already has symptoms of AD. Moreover, because NSAIDs can cause serious side-effects such as kidney damage and internal bleeding, it is important that people speak with their doctor before taking these medications.