Exciting the Immune System to Fight Amyloid Plaques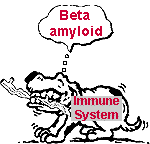 The researchers took advantage of the immune system's defense properties and taught it to recognize beta amyloid as an unwanted invader. This is like teaching a guard dog a new trick. They created a "vaccine" that combined beta amyloid with a substance that mobilizes the immune system. This vaccine caused the immune system to mount an attack against beta amyloid, which in turn reduced the number of plaques in the brain. (It's as if you were baking cakes and someone took away some of your batter. You wouldn't be able to bake as many cakes and each cake would not be as big.)

What is truly exciting about the results from this study is that the vaccine not only prevented further plaque formation, but it reduced the amount of existing plaques!
Testing the Vaccine, Experiment #1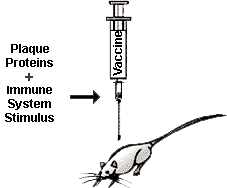 How did the scientists test the vaccine? In a good experiment, there is a control group and an experimental group. The control group serves as a comparison for what happens in the experimental group. The experimental group receives a new treatment, whereas the control group does not. The two groups are treated identically in all other ways.

In the AD vaccine experiment, young mice (6 weeks old) were genetically engineered to produce lots of amyloid protein, more than normal mice would produce. Mice at this age have very few brain changes, such as plaques formation, associated with AD.

The experimental group received the "vaccine" of beta amyloid plus an immune system stimulator. The control group received everything except the beta amyloid. For 11 months, each group received one injection per month. When the scientists examined the mice brains, the control group had plaques covering 2-6% of their brains, while the group who received the "vaccine" had very few plaques. So the vaccine "essentially prevented the development of beta amyloid plaque formation," the report in Nature states. What's more, beta amyloid production was unaffected. This means that either the protein was being prevented from clumping into plaques, or it was being cleared out of the brain more effectively.