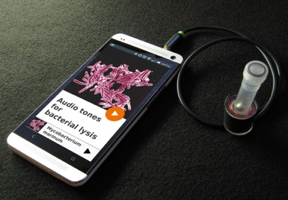 Image of the AudioLyse device as run from a cell phone audio output. From:
Electromechanical cell lysis using a portable audio device: enabling challenging sample preparation at the point-of-care, Buser, J.F., Wollen, A., Heiniger, E.K., Byrnes, S., Kauffman, P.C., Ladd, P.D. and Yager, P., Lab on a Chip, 15(9): 1994-1997 (2015)
Professor Gerard Cangelosi and Yager will collaborate to create a tool to allow oral swabs to be used to diagnose tuberculosis. Specifically to be developed is a small stand-alone device that will permit a swab of the tongue to be processed using heat and a proprietary single-tube bead beater to a sample ready for direct introduction into a nucleic acid amplification system.