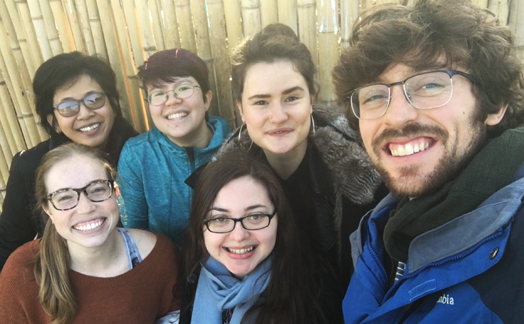 Photos and Movies of Current Keller Group:

Andrew scales, weighs the matter carefully, & raises his glass to Catherine.
Caitlin finishes, interdigitates, levels with her audience, demonstrates, accepts congratulations, turns 1 in lab years, inspires, ​ levels the playing field, collaborates, digests, inspects, leans in, lays out her story, ​ projects, wins, checks the check, witnesses, wishes Moshe well, blooms, ignites, ​ ages, puffs, reigns, beams up, jazzes up NOLA, marches (1, 2, & ​ 3), labels vesicles, triangulates, peers, ages, addresses, chums, poofs, double-poofs, discovers modulation & ​ travels.  
Catherine witnesses, wishes Moshe well, presents, explains, solders, presents team project, wishes, & goes green.
Chantelle blooms, pipettes (1 & 2), triangulates, poofs, double-poofs, bands together, & goes green.
Glennis collaborates lands on the runway, collaborates, soars, analyzes Scott's data, applies a Kalman filter, reviews protocols, ​ wishes Moshe well, jazzes up NOLA, performs simultaneous DSC and fluorescence, & gets Artrageous, & goes green. ​  
Ranee convinces, refines, brightens our lab, reigns, lies under the sea, charms, ​ clarifies, surprises, presents data, interdigitates, lectures, dresses as a twin, chums, accepts congratulations, & ​ gets certified  
Roy adventures, leads & narrates & spans the interdisciplinary gap & wishes Moshe well. 
Sarah K. examines, confers degrees, attacks a wall, ​ makes water, flames out, introduces a PhD, drops balls, says "kampai!", ​ cooks data, co-hosts, follows the leader, co-nominates, ​ roves (1, 2, & 3), takes a mugshot, leaves a P'ton legacy, models, ​ awards, encourages, invaginates, supports a monolayer, ​ shears a bilayer, remains thankless, goes way back, diagrams, bears a family resemblance, labels bilayers, ​ thinks big, reflects, accepts, volunteers, triangulates, ​ OK GOes to lab, glows orange, convokes (starting at 55:15), & looks at the bright side.  ​
Zack loves lipids, stirs primordial soup, self-assembles, & stars his own record label.  
Schiller and Aebleskivers Schiller enquires if you have written your manuscript draft (Quicktime .avi file).  Aebleskiver vesicles!
Everybody accepts awards (2015), gathers, collaborates, blooms, lunches & models as Team Yeast at home, and at the BPS meeting. ​

Photos and Movies of Keller Group Alumni:

Andrea clicks. 
Aurelia sculpts, vanquishes a wall, grows tall, bangs, ​ wears hats, marches, watches the clock, competes, tours Jerusalem, ​ presides, carves, peers, & dances. 
Ben H. peers, presents, meets the nation, makes news, ​ describes, tightens, & commissions Libby Lipid. 
Ben S. earns Ph.D., finds fame in bottles by Sarah V, strums, & gets to the point 
Christina headshot, instructs, lays out, runs solvents, inspires & collaborates.  
Cynthia presents, cracks up, wins 2nd, grins at her prize, ​ wants a pony, smiles, rocks the ed section, preps to win, ​ nucleates a large domain, wins 1st, froths, cobbles together data, ​ poses, pours, slices through data, ​ rains data (thanks to Matt, Joan, and Thomas), & mentors & guides 1 & 2. 
Daniel loves Langmuir troughs. 
The Dream Team (Cam & Jordan) give thumbs up, & feed our humor. 
Jake plays, & meets another Jacob. 
Joan refuses to age, electroforms, lines up, ​ takes flight, plays third, runs, summits, froths, ​ weighs choices, points, gets into her work, illuminates, ​ reaches out (Renton High & Zillah Middle School groups one, two, & three), isst und trinkt, ​ allies with a nobelist, hosts Amy Cuddy, power poses, introduces, ​ packs the auditorium, scans, evaluates data, glows, proves, ​ gives a tour, quaffs, swings forward, swings back, accepts congratulations, escorts, ​ smiles, defends!, digests & survives her 1st quarter!
Jonathan headshot, travels, digests, ventures, classifies artifacts, counts, ​ discusses, explicates, surprises, fudges, (super)stars, ​ rounds 3rd for home, convinces, tuts, dances, wins minds with hearts, attracts fans, pulls cholesterol, ​ lines up, accepts congratulations, saturates, abducts, gets defensive, feels toasty, reverts & vows. ​  
Marcus toasts & pokes. 
Margaret applies vacuum & relaxes.
Marie masters a technique. 
Mark squints, wears hats, graduates, ​ gets happy, plays it again, has another, is a cog in our machine, ​ goes mad, upgrades to Mark II, & commissions art. 
Matt headshot. ponders injera, wrangles samples, attracts a crowd, wears shoes, advances, ​ lights up the lab, dons chemist disguise, avoids the eye, learns techniques, reaches out to Renton High, ​ mentors, connives, carves, hosts, introduces, ​ answers, controls the horizontal & vertical, peers, recounts, lectures, converses, derives, ​ discusses, surprises, disrupts domains, engages in science outreach, dresses as a twin, tells tales, ​ maps sweet diagrams, defends, shakes, enrobes, ​ treads, quaffs, dances, echoes, finalizes, shears, ​ gets the point & takes the stage.  
Mebbie stars in a TV commercial (0.5MB Quicktime). 
Morgan measures & presents. 
Moshe headshot, pipettes, deflocculates, dances, echoes, models a liquid phase, ​ captures, discusses, celebrates awards, listens to his intro, reflects on his data, ​ watches Scott bind adenine, extinguishes & celebrates his last week.  
Peter blooms. 
Rayna pipettes. 
Sarah V. smiles, takes data, & celebrates Ph.D. (Veatch World Tour shirts by Ben). 
Scott joins, bakes, digests, ventures, counts, ​ inspires (1, 2), surprises, reproduces data, shakes, towers with power, ​ represents us, hosts the President (of HMC), finishes, comes back to Earth, captures, models a liquid phase, ​ emulates DiPhyPC, echoes, swings forward, swings back, accepts congratulations, welcomes, demonstrates, ​ escorts, volunteers, lays out, runs solvents, inspires, records, beams up, reaches for stars, demos ​ shines, collaborates, devises protocols, points the way, glows green, makes Felix smile, ​ celebrates awards, steams ahead, blooms, submits data to Glennis, applies Kalman filter, witnesses, binds adenine, ​ ignites, wishes Moshe well, extinguishes, extrudes in Steps 1, 2, 3, serves the queen, jazzes up NOLA, marches (1, 2), heats up, listens, conquers, gasps, hikes, surveys yeast, labels vesicles, is legendary, triangulates, & ties up his dissertation. ​  
Thien-An says "mmm".  
Thomas cuts a fine figure, ages, explains, ​ makes it look easy, renews, shows and explains to Renton High, ​ regards work seriously, masquerades as a pointy-headed scientist, ​ addresses the crowd, eclipses competition, ​ accepts Skinner Prize, exchanges "Ph.D." for "H.R.H.", posts a doc, blooms, flies the Tricolore, ​ admires Aurelia's sleeves, mentors, & mange la cena. ​

Photos and Movies of Archived Group Photos, of Conferences, and of the Membrane Chix:
Archived Group Photos: evolves from empty in '01 to full in '04 and '11, dances with joy (.mov) for a new shutter, ​ functions as a well-oiled machine (.mov), eats wat, suits up, gathers at Honk Fest West '11, ​ achieves neutral buoyancy, stares down computers, and attends the 2011 UW undergrad research symposium, Litz's 3rd Year celebration, ​ 2014 in the garden, 2014 on the steps, celebrates Matt's Ph.D., dines (2015 BPS).  


Conferences: Gold at Asilomar Int'l Ping-Pong Championship. Adrian, plus Helmut. Long day at Biophys. ​ Greg, mild-mannered superman, takes flight. ​ Membrane Structure and Assembly Subgroup '09 Membrane Biophysics Huzzah! (.mov) and low res version. ​2010 Biophysical Society work and play. 3 Generations of Sarahs. 2013 BPS dance, 2014 BPS photobooth, 2014 BPS dance.


Department of Chemistry
University of Washington Box 351700
Seattle, WA 98195-1700 USA
e-mail: slkeller -at- chem.washington.edu