Jonathan M. Karpoff's personal page
... Hiking, climbing, and skiing in Washington's Cascade Mountains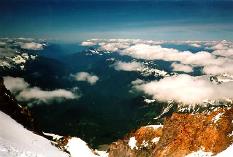 This picture was taken on the way up Glacier Peak. I like the feeling it evokes of soaring above the clouds – just like you are climbing.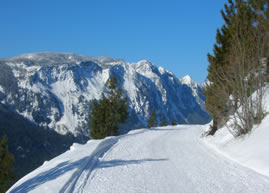 This is near the top of Pole Ridge on skinny skis - see Trail #10 at my page on Adventure Skate Skiing. Adventure Skate Skiing is crazy good skiing.
• The Wall Street Journal ran this story about Adventure Skate Skiing. Moose are involved.
***TRIP REPORTS***
Strava and social media provide enough information about places to go outside, so I stopped posting new stories about outdoor places. But here are some older trip reports. I post as "Roald".
• Some favorites:
• The best trip ever: UW Medical Center
• Mostly pics (too lazy to write up a story):
Pasayten rambling, Ptarmigan and Dot Mountains, Aug 20-23, 2016 - no trip report here, just some unedited pics of a loop trek with Alex, Tesha, and Evan - two of which are my kids. Dot Lake is beautiful.

"Hard" Mox and Redoubt, July 2016 - again, no trip report, just some unedited pics of my first foray into the Chilliwack headwaters, with Eric and Crispin

Ptarmigan Traverse on skis, July 9-12, 2011 – Crikey indeed.

– Ptarmigan Traverse trip report by climbing partner Eric

Bonanza Peak, July 13, 2012 (pics taken by Eric, but no trip report)
• Other trip reports
Mount Formidable, Sept 15-16, 2016 - the Ptarmigan Traverse in late season colors (written up and posted by climbing partner Nick, with my pics added to the post)

Jack Mountain attempt (and fail) from the Nohokomeen Glacier (written up by climbing partner Eric, aka "Cartman")

Ski to Trinity - both metaphor and 44 miles

Second annual ski to Trinity - distance inflation: maybe it's 46 miles, not 44!

Larch Lake autumn run - cool running, and biking

Earl Peak ski - posted by skiing partner Randy (I am the one carrying the orange shovel)

Mt Dickerman snowshoe - posted by hiking partner Mark, with his cool video
• Trip reports from my "50 at 50" climbing project several years ago, in which I aimed to climb 27 of Washington's Top 100 mountains in one summer:
Other stuff:
Climbs, hikes, and mountain bike rides Older pictures of some outings in the Cascade and Olympic Mountains of Washington state.
Stories of gonzo (well, sort of) mountaineering.
Great links to interesting and important stuff