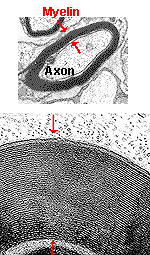 What is Multiple Sclerosis (MS)?
MS is a neurological disease that occurs when the insulating material ("myelin") around nerve cells in the central nervous system is damaged. The word sclerosis comes from the Greek word "skleros," meaning hard. In multiple sclerosis, hard areas called "plaques" develop along a neuron's axon. "Multiple" refers to the many different areas of the nervous system that may have damaged myelin. People with MS can experience symptoms such as difficulties in walking, visual problems, and pain.

MS is NOT contagious and it is not fatal. However, because MS disrupts the way messages are sent through the nervous system, the symptoms of MS can be serious and disabling. MS is considered to be an autoimmune disease. This means that a person's immune system attacks its own tissue. In MS, the immune system attacks myelin.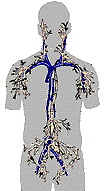 The Immune System
Your body is always on the look-out for foreign invaders such as bacteria and viruses. If these invaders get into your body they may make you sick. However, your body has defense mechanisms to fight these microorganisms and prevent infections. These defense mechanisms make up your immune system. Some immune cells can remove the invaders themselves and others cause extra blood to be directed to the site of infection and produce inflammation. Other immune cells produce chemicals or "antibodies" to find and eliminate harmful invaders. The cells that produce antibodies are located in the lymphatic system (see picture on the left), a group of organs including the bone marrow, thymus, spleen, lymph nodes, tonsils and appendix. These cells travel into other parts of the body when they detect an invader or some foreign matter. The organs of the lymphatic system are connected by a series of lymphatic vessels that eventually empty into the bloodstream.

Sometimes, the immune system sees parts of its own body as foreign and attacks them in what is called an "autoimmune response." In the case of MS, the immune system attacks the myelin around nerve cells in the brain and spinal cord.