What can you do to protect yourself from the disease?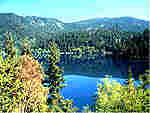 If you live in or will be visiting an area where the bacterium Borrelia burgdorferi is found in wild animals, it is wise to take precautions against tick bites. Deer ticks like to hide in dark shady places such as moist ground litter in or near forests. They cannot jump or fly, but crawl onto the skin of a potential host. Once they are on the skin, they crawl up to dark protected areas such as the back of the knee, the neck, armpits, ears, etc. They then begin to pierce the skin of the host until they find a blood supply.

The best protection against Lyme disease is to avoid areas where ticks live and to check yourself for ticks after you have been outside. The good news is that even if you find a tick, if you remove it correctly before it has been there 24-36 hours (and its body is engorged with blood), you can greatly reduce your chances of getting the disease. According to the FDA and CDC, the best way to remove the tick is to use tweezers. Grasp the tick by its mouthparts where it enters your skin and pull steadily outward. DO NOT just squeeze the tick's body. Quick jerking motions and irritants may cause the head of the tick to stay inside your skin. Therefore, Lyme disease could be transmitted even after the tick's body has been removed.

If you do come down with some of the symptoms, especially if you live in an area where there is not known to be a wild population of Borrelia burgdorferi, it would be wise to talk to your physician. Let him or her know where you have been travelling and what outdoor activities you have taken part in.