Computed Tomography Scan
(CT Scan)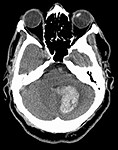 Image courtesy of the Yousef Mohammad, M.D., MSc; Assistant Professor of Neurology Division of Cerebrovascular Diseases, The Ohio State University Medical Center
CT scans use a series of X-ray beams passed through the head. The images are then developed on sensitive film. This method creates cross-sectional images of the brain and shows the structure of the brain, but not its function.
Magnetic Resonance Imaging
(MRI)

MRI uses the detection of radio frequency signals produced by displaced radio waves in a magnetic field. It provides an anatomical view of the brain.

Advantages:
No X-rays or radioactive material is used.
Provides detailed view of the brain in different dimensions.
Safe, painless, non-invasive.
No special preparation (except the removal of all metal objects) is required from the patient. Patients can eat or drink anything before the procedure.
Disadvantages:
Expensive to use.
Cannot be used in patients with metallic devices, like pacemakers.
Cannot be used with uncooperative patients because the patient must lie still.
Cannot be used with patients who are claustrophobic (afraid of small places). However, new MRI systems with a more open design are now available.