Activity 2: Be an REM Detective
For grades 3-12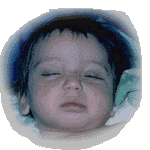 If you have read about sleep, then you know that REM is an abbreviation for Rapid Eye Movement sleep. Sleep labs use expensive equipment to monitor brain waves, but you too can be a sleep researcher. During REM sleep, the eyes move back and forth. Even though most peoples' eyes are closed (or partially closed) when they are sleeping, you can still detect movement of their eyeballs through their eyelids.
Practice observing this in someone who is awake. Just ask the person to close his or her eyes and then to move their eyes. You should be able to see a bulge moving behind the eyelid quite easily. Now you are ready to do some sleep research. When your brother or sister or mother or father is sleeping, take a peek at their eyes. Are their eyes moving back and forth rapidly? If they are, the person is probably in REM sleep.
Remember that there are only about 4-5 REM periods in a whole night's sleep, so you might miss it.

Materials:
A sleeping subject

A family member - brother, sister, mother, father, etc.
A friend
You could even use a pet dog or cat


Be quiet and do not to wake up the person. Otherwise, you might have a very angry test subject!