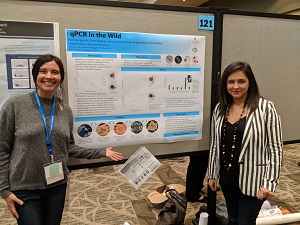 2018's Salish Sea Ecosystem Conference was my very first science conference. I've long had a healthy obsession with Puget Sound and the Salish Sea, but I am just beginning my path to earning the degree in science that will help me become a stronger force to protect it.
My background is in music, not science. So, most of the community I have surrounded myself with can only relate so much to my interest in Marine Science. I always knew there were many people in the world that felt as compelled as I do to connect with the underwater world. But I was deeply moved within the first few minutes of the Salish Sea Conference by how many people were heavily passionate about this particular body of water that I feel so drawn to. I did not know this community existed on such a large scale!
Being a Puyallup Tribal member who has worked with the Shellfish Department for the last 8 years of my life, I was extremely inspired and motivated by how much mutual respect and admiration I felt between the Tribal representatives and the science community. In my work with the Tribe thus far, I have observed much more tension bordering on animosity between the tribes and the state when it comes to managing resources. It's always felt like a dark subject to me. But that feeling was not present at the Salish Sea Conference. At least not from my vista. This is very encouraging to me because I am not attracted to that kind of energy. I want humans to see past their own immediate desires when it comes to the planet. I want us to be able to appreciate our differences and use them to the advantage of the whole. The place I see myself in 5-10 years is representing the Puyallup Tribe's role in the science community's work to protect, restore, and preserve the Salish Sea. I hope my presence in that role will be one that helps to nurture peace and cooperation between all that are affected by the health of our waters.
On a lighter note, the conference as a whole was also just fun! I described it to a friend as like walking through a living magazine on my favorite subject. The ability to bounce around and listen to the latest info on a variety of different topics involving the Salish Sea was exactly perfect for my type of brain. And they played great music in the main ballroom during lunch and in between sessions! Overall the entire experience was intensely gratifying and reaffirming to me. I can't wait to dig deeper into this world that has newly entered my life!
(Editor's note: Check out the recent article in Motherboard about Hozoji's journey to science–The Geoduck Diver.)
Becker Lab at #SSEC2018: My First Science Conference!