When I was in graduate school in San Diego, I joined my fellow oceanographers-in-training to an ocean-themed art show. It mostly featured large-scale photographs of seascapes, taken from a similar angle on shore, focused on waves and horizons. We all left feeling disappointed. In our work as scientists, we experience the ocean from multiple angles: looking up from the bottom to sinking down from the surface, from basin-scale processes to microscopic organisms, from the precise boundary of air to sea and from many hundreds of meters below the ocean floor. We were inspired to see how artists could interpret some of the incredible things we get to experience as scientists, but ultimately we were left feeling flat.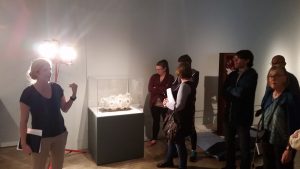 This month, the Museum of Glass is opening an ocean-inspired show,
Into the Deep
, that interprets the ocean through the medium of glass. Talented curator, Katie (Phelps) Buckingham wanted to highlight how glass, in particular, was an excellent medium to explore the texture, movement, and light-alterations of the seas, both the water and marine life. We got to preview the show today, and I was blown away (pun intended). The pieces include incredibly realistic and intricate models of familiar sea life, including octopuses, shrimp, and barnacles. They also include more abstract pieces that explore how light attenuates with depth, how waves roll, and how being rolled in the waves makes you feel a little dizzy. Each artist brought a different perspective, and in all cases you could get a sense of their different experiences with the ocean. If you love the ocean, or things in the ocean, I think this exhibit will delight you. It opens on Saturday (September 24, 2016) and runs through September 2017.
Our lab and UW Tacoma has had the privilege of working with Katie, and the fabulous education staff at MoG including Bonnie Wright and Elisabeth Emerson, to contribute as science curators for Into the Deep. We got to participate in a lot of fun ways: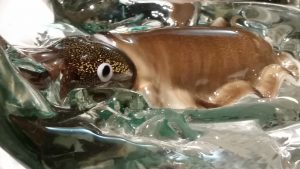 We created some supplemental contented for the STQRY app that will allow visitors to learn about some of the science behind the animals in the pieces.
We also contributed to an education nook that celebrates the 10th anniversary of the Foss Waterway Cleanup and discusses further threats to the ocean–this includes some photos donated by Dean Burke (Tacoma Sportsman Association), Mary Henley (City of Tacoma), Rick Fuller (Trendline Environmental Chemistry), Nannette Huber, Julie Masura (both of UW Tacoma), George Waldbusser (Oregon State University), and Citizens for a Healthy Bay. (More about the Foss cleanup can be seen at the great exhibit at the Foss Waterway Seaport.)
Our students (Laura Thornhill, Jenn Gonzaga, and Emily Thompson from Wilson High School) will be leading some special science-themed tours and family day activities that are open to the public.
Tyler Budge, UW Tacoma art professor, will work with his class to create a response piece to the exhibit, which will be on display at MoG. UW Tacoma students can register for TARTS 240 to participate.
Here are some upcoming events for you to interact with the exhibit:
October 1, 2016 (1-2 pm): I will be giving a public talk at MoG on why marine invertebrates make good art.
October 11, 2016 (7:30-8:45 am): Citizens for a Healthy Bay's Breakfast on the Bay. This will be at MoG, I will give a keynote address, and you can check out the exhibit. All while helping to protect the ocean highlighted in the art!
Most "Third Thursdays" at 6 pm, UW Tacoma students will give a zoology-themed tour of the exhibit.
Selected "Second Saturdays" from 1-4 pm, UW Tacoma students will run marine biology themed kids art activities.
Bravo to Katie and the rest of the MoG staff on a great exhibit! Thanks for letting us dive in with you.
Go See "Into the Deep" at Museum of Glass