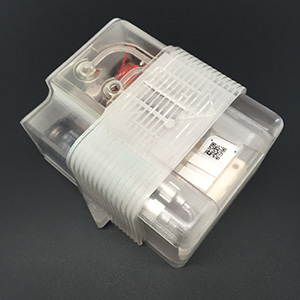 A Seattle-based consortium led by the Yager group was awarded $19.7 million in 2011 by the DARPA Defense Sciences Office (DSO, later transferred to BTO). The aim of the 5-year project is to develop an instrument-free fully-disposable paper-based diagnostic platform capable of detecting multiple pathogens by their DNA or RNA from a patient sample.
Performance goals for the MAD NAAT device included storage for 1 year at ambient conditions (up to 45°C), incorporation of all reagents on the stored device, and sample-to-result operation within 1 hour.
The readout on the 2015 prototype (shown at left) was on lateral flow strips so that image capture and analysis was possible with a conventional smart phone.
The initial test was to identify MRSA from a nasal swab sample (using DNA), then RSV (using RNA). In the last year of the project the target pathogens were expanded to include Chlamydia trachomatis and Neisseria gonorrhoeae (DNA) in urine and the Zika virus in blood.
The device was to go from sample-to-result anywhere, be simple enough for untrained users, and low enough cost to enable wider use of sophisticated medical tests. Potential high-impact applications are those in which there is a need for significantly improved detection sensitivity to enable earlier diagnosis (and treatment) than is possible with current protein-based tests. These include multiplexed testing for the full range of infectious agents in human and environmental samples.
The consortium coinvestigators includes Barry Lutz of UW Bioengineering, Walt Mahoney of Epoch Biosciences (later the ELITech Group), David Moore of the GE Global Research Center, Bernhard Weigl of PATH, Ferric Fang of UW Laboratory Medicine, and Janet Englund of Seattle Children's.