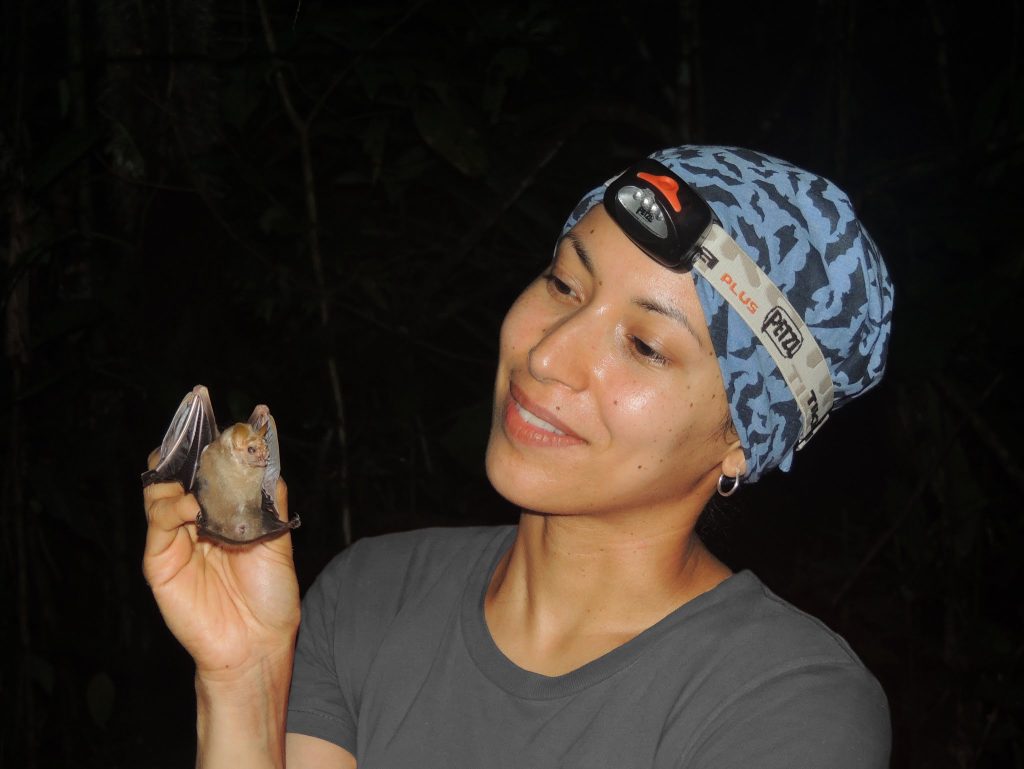 I live at the intersection of scientific disciplines, races, cultures, nationalities, and other identities.
I grew up in Venezuela, a diverse country in many dimensions. My curiosity for the natural world led me to pursue a career as an evolutionary biologist, and to focus my research on understanding the mechanisms that underlie diversity in form, function, ecology, and number of species.
To understand the processes that lead to phenotypic and lineage diversification, I integrate studies of morphology, function, behavior, and ecology (= ecomorphology) within an evolutionary context. My work is largely focused on bats, because they are one of the most ecologically and morphologically diverse lineages of mammals and thus offer a natural experiment to investigate patterns and mechanisms of diversification. In my research, I apply comparative, integrative and interdisciplinary approaches, involving data collection in the field from free-ranging animals, along with modern lab techniques and quantitative tools. By doing this work in a broad evolutionary context, my research is able to test hypotheses about adaptation and drivers of diversification.
More about me:
Early-career researchers: an interview with Sharlene Santana
Dr. Sharlene Santana: Determining the Drivers of Diversity in Bats and Other Mammals (podcast)
Contact: ssantana"at"uw"dot"edu; Twitter: @SESantanaM
Education, academic positions and affiliations
2021-present: Professor, Department of Biology, University of Washington.
2012-present: Curator of Mammals, Burke Museum of Natural History and Culture, University of Washington.
2019-2021: Fulbright Scholar, Costa Rica.
2017-2021: Associate Professor, Department of Biology, University of Washington.
2012-2017: Assistant Professor, Department of Biology, University of Washington.
2011–2013: Faculty Institutes for Reforming Science Teaching Scholar
2010-2012: Postdoctoral Fellow. Institute for Society and Genetics. University of California Los Angeles.
2005-2010: Ph.D. in Organismic and Evolutionary Biology. University of Massachusetts Amherst.
2004: Licenciatura en Biología. Universidad de Los Andes, Venezuela.