---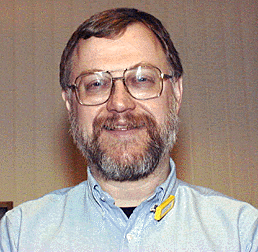 Mike Richardson
Caller, musician & dance leader
Mike Richardson has played fiddle, called, and danced in the Seattle area since 1985. Mike has called and played at dances in 14 states, 2 provinces, 5 shires, 2 oblasti and 4 countries (including England and Russia), and has staffed dance and music camps in Alaska, Arkansas, California, Canada, England, Idaho, Illinois, New Jersey, Texas, Utah, and Washington.
A proponent of "no-fault" folk-dancing, he calls contras, squares, Irish set dances, French and English country dance, Australian bush dancing and Morris dancing. Mike has played with the bands Hands Four, Scotsbroome , and Bladerunners in Seattle and Childsplay on tour around the U.S., and has twice toured England on calling tours. Mike has played or called at numerous dance festivals throughout the U.S. and Canada. He was recently hired to teach American dance and fiddle at the prestigious Sidmouth International Festival of Folk Arts in England.
He has also written a number of tunes and dances, some of which are collected in his book, Crossing the Cascades. He plays fiddle on the latest recording by Childsplay, called Twelve-Gated City. Mike is currently on the national board of the Country Dance and Song Society, and was founding Webmaster for CDSS, the New England Folk Festival Association, and the Northwest Folklife Festival. Between musical gigs, he teaches radiology at the University of Washington.
---