Surface reconstructions can be divided into two groups:
displacement and misplacement reconstructions.

Compared to the unreconstructed configuration, particles on the surface are moved only locally or are transported away completely.

Misplacement reconstructed surfaces have typically a different average surface height than their unreconstructed counter parts. The top layer(s) can be interpreted as only partially completed and have long range positional order.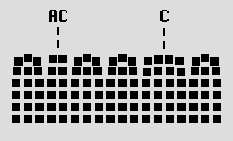 displacement reconstruction with topological defects