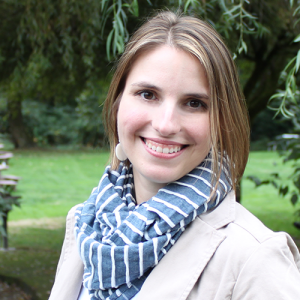 Julie A. Kientz (pronounced like "Keentz") is an Associate Professor in the department of Human Centered Design & Engineering at the University of Washington. She directs the Computing for Healthy Living and Learning Lab, is active in the Design, Use, Build (dub) alliance, and has adjunct appointments in The Information School and Computer Science & Engineering. Dr. Kientz's primary research areas are in the fields of Human-Computer Interaction, Ubiquitous Computing, and Health Informatics. Her research focuses on understanding and reducing the user burdens of interactive technologies for health and education through the design of future applications. She has designed, developed, and evaluated mobile, sensor, and social applications for helping individuals with sleep problems, parents of young children tracking developmental progress, individuals with visual impairments, people who want to quit smoking, and special education teachers working with children with autism. Her primary research methods involve human-centered design, technology development, and a mix of qualitative and quantitative methods. Dr. Kientz received her Ph.D. in Computer Science from the Georgia Institute of Technology in 2008. She was awarded a National Science Foundation CAREER Award in 2009, named an MIT Technology Review Innovator Under 35 in 2013, and was given the UW College of Engineering Faculty Research Innovator award in 2014.
News
I have been appointed Director of HCDE's Ph.D. program, as of Autumn 2018. Please email me or Pat Reilly with any questions you have about the program.
In the past year, our research lab has been awarded grants from Google, Mozilla, SCRD/Jacob's Foundation, and the UW ALACRITY center.
I have joined as a senior editor of the new and innovative conference-journal model, the Proceedings of the ACM on Interactive, Mobile, Wearable and Ubiquitous Technologies (IMWUT). Papers appearing in the journal will appear at the UbiComp conference, with four deadlines per year (Nov. 15, Feb. 15, May 15, Aug. 15).
I am currently serving as Steering Committee Chair for the UbiComp conference series. Next UbiComp conference is in London!
I am also serving as Steering Committee Co-Chair with Lena Mamykina for the Working Group on Interactive Systems in Healthcare (WISH). Next WISH symposium is at CHI 2019 in Glasgow, Scotland on May 5th, 2019.
This year I am teaching a new class on UX Design for Kids (HCDE 418, Autumn 2018) plus Intro to PhD Studies (HCDE 541, Autumn 2018), and User Research Studio & Evaluation (TECHIN 523, Spring 2019) in the GIX MSTI program.