Contact Info
UW Class Info
Jaisri Lingappa M.D., PhD.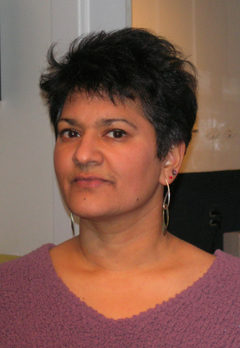 Jaisri Lingappa received her BA from Swarthmore College, MD from the University of Massachusetts, and Ph.D. from Harvard University. She did an internship and residency in Internal Medicine and fellowship in Infectious Disease at the University of California at San Francisco (UCSF). As a post-doctoral fellow, she worked with Vishu Lingappa, William Welch, and Don Ganem, at UCSF, to develop a cell-free system for the assembly of hepatitis B virus capsids. Subsequently, she received independent funding to establish a cell-free system for studying the mechanism by which the immature HIV-1 capsid assembles. Using cells and the cell-free system, her group has demonstrated that HIV-1 and other primate lentiviruses assemble their immature capsids via a multi-step, energy-dependent, pathway that requires a host factor termed HP68 or ABCE1.
In 1999, Dr. Lingappa joined the faculty of the Dept. of Pathobiology in School of Public Health at the University of Washington (UW). In December 2007, she moved to the University of Washington Dept. of Global Health, where she is an Associate Professor with an adjunct appointment in the UW Dept. of Medicine. She is affiliated with the UW Pathobiology PhD program and the UW Molecular and Cellular Biology (MCB) graduate program. In recent years, Dr. Lingappa has taught a Pathobiology core course for graduate students entitled the Cell Biology of Pathogens and Disease (Pabio 552) and has co-taught a minicourse, with Dr. Kevin Klein, entitled Scientific Writing Workshop (Pabio 590B). Research in her laboratory is focused on understanding mechanisms of viral capsid assembly, with an emphasis on identifying viral host-interactions critical for HIV-1 capsid formation. Additionally, the Lingappa lab is studying how APOBEC3G, an antiviral cellular factor, is regulated in primary human T cells. Other projects in the lab include establishing systems for studying the mechanism of assembly of other viral capsids, including hepatitis C virus and the alphavirus Venezuelan equine encephalitis virus (VEE), as well as understanding the block to HIV assembly in rodent cells.
---
For more information on Dr. Lingappa's research, see her Research page.
---