Prof. Pauwels teaches courses in modern and medieval Hindi language and literature, in Sanskrit, and Hinduism, such as "Introduction to Hinduism", "Ramayana in Comparative Perspective", "Hindu Goddesses", "Medieval Hindi Literature: Braj (Krishna Bhakti), Avadhi (Rama Bhakti and Sufi texts), Rajasthani (folk and religious epics)" and "Sanskrit philosophical texts".
Prof. Pauwels supervises graduate students, both MA and PhD in the department of Asian Languages and Literature, as well as MA students with focus on Hinduism in the Comparative Religion and the South Asia Program in the Jackson School of International Studies (see links above).
Main interests are:
Hindu Goddesses
Medieval Bhakti
Media representation of mythology (including Hindi film)
Braj, Avadhi, Sant Bhasha and Rajasthani Texts
Sanskrit texts of Krishna and Rama devotion
Funding opportunities include FLAS for US citizens and International RAs. In addition, TA opportunities for Hindi and South Asian Culture are available, see http://depts.washington.edu/asianll/news/jobs_tas.html.
Publications include two monographs on sixteenth-century bhakti: "Krsna's round dance reconsidered: Hariram Vyas's Hindi Ras-pancadhyayi" (London: Curzon Press, 1996) and "In praise of holy men: Hagiographic poems by and about Hariram Vyas" (Groningen: Egbert Forsten, 2002), as well as various articles in scholarly journals and conference proceedings, including comparisons of medieval and contemporary film and television retellings of the stories of Krishna and Rama..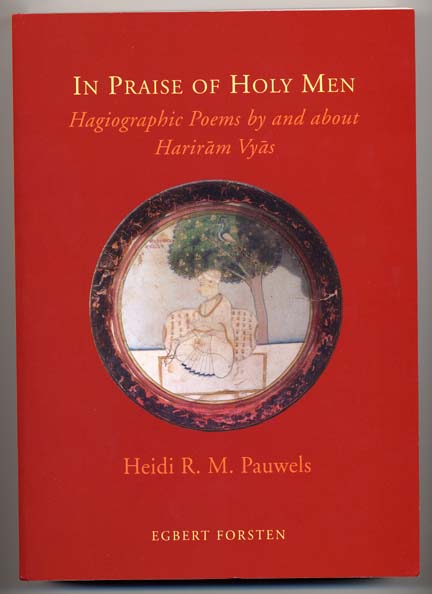 Heidi Pauwels studied in Europe (in Belgium with Winand Callewaert and in Germany with Monika Horstmann), India (at the Vrindaban Research Institute), and the USA (in Seattle with Alan Entwistle) and taught at the School of Oriental and African Studies in London (1994-96).