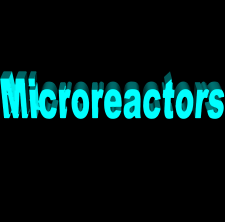 Big Results from a Small Package
Recently, the biggest buzz among chemical engineers is for a tiny piece of technology: the microreactor. What is a microreactor? It is a miniature version of the traditional, large-scale reactor that most people are familiar with.
To discover more about the amazing aspects of microreactors, please spend some time exploring this website. We will lead you through the remarkable story of microreactors, detailing everything from how microreactors are designed to modeling a reaction on a microreactor. Whether you are an expert in chemical engineering or just a beginner, you will find the world of microreactors fascinating!
If you have any questions about terminology used along the way, please click on the glossary

icon. This page defines many of the important microreactor terms. Also, if at any time you wish to return back to this main page, simply click on the home

button.

Next Page

---
This website was designed by:
as part of Chem E 475, Mathematical modeling of chemical engineering systems, under the guidance of Prof. Bruce A. Finlayson .

---