---
Here is how to determine if a set of differential equations is stiff.
The two equations below are a simplified model for a catalytic converter, where y denotes the mole fraction of CO in the gas phase and T denotes the temperature of the gas phase. The model was simplified by excluding the reaction term.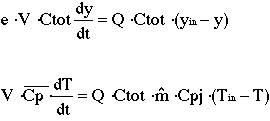 ---
When the constants are substituted into the above equations we get:

By solving for the eigenvalues for this system of equations, we can tell which variable, y or T, is going to its steady state solutions faster. Note.
---
For information regarding eigenvalues for systems of ODE's, please consult an ordinary differential equations text.
---
It is the ratio of the eigenvalues (larger over smaller) that tells us if the equations are stiff. A ratio of 1000 qualifies as 'stiff', while a ratio of 5000 would be 'very stiff'.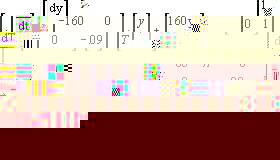 ---
Here is the ratio of the Eigenvalues.

---
Page constructed by

Doug Thornhill, James Bopp, Cory Clemmons and Devin Hodgson.
For questions or suggestions, please contact us through dt@u.washington.edu
Last modification on 7 Dec 95.