Darryl Holman's Research
I am a biological anthropologist and demographer with broad interests in anthropological demography. An overview of my approach to research can be found
here
. For a geographic perspective on my research, click
here
. Follow the links to find more information about my research projects.
---
The following map shows some places my research takes me. Aside from the U.S. and Bangladesh, where I have done real field work, research in other areas is based on analysis of data sets or based on the field work of students.
Click on the circles to learn more.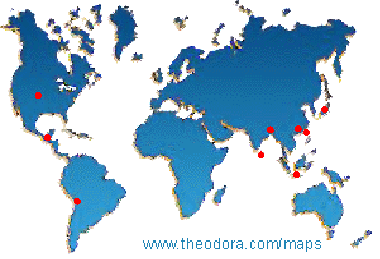 <!Begin Link to map Page-->
Maps courtesy of
www.theodora.com/maps
used with permission.
<!End map Link-->