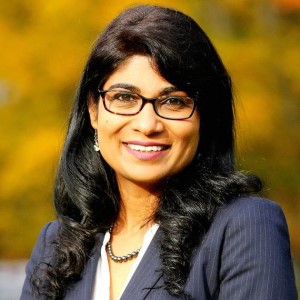 Professor, Global Media Studies, School of Interdisciplinary Arts and Sciences
Associate Vice Chancellor for Innovation and Global Engagement
Divya McMillin (PhD 1998, International Communication and Cultural Studies, Indiana University Bloomington) is recognized for her pioneering work in curriculum design, which integrates experiential with academic learning in a framework of inclusive innovation. Asking "the right question", she believes, is the most important step towards sustainable solutions. She has created a range of funded opportunities for students to work with local and global partners to bring forward collaborative and creative solutions for the community. McMillin has been featured as The Builder and Innovator for founding the Communication major (2000), the Global Honors Program (2005), the Institute for Global Engagement (2014) with its Minor and certificates in Global Engagement, the Global Innovation and Design (GID) Lab (2018) with its Minor in Innovation and Design, and the Institute for Innovation and Global Engagement (2020). She is Professor of Global Media Studies in the School of Interdisciplinary Arts and Sciences, and Associate Faculty of the South Asia Center and Affiliate Faculty of the Center for Global Studies in the UW Seattle Henry M. Jackson School of International Studies.
Research and teaching
McMillin's pivotal work on the impact of satellite television on audiences and the television format industry across the world, have led to three critically acclaimed books, International Media Studies (Wiley 2007), Mediated Identities: Youth, Agency, and Globalization (Peter Lang, 2009), and the anthology Place, Power, Media (Peter Lang, 2018).
She is one of only three faculty at UW Tacoma to receive highest honors in both research and teaching, with a Distinguished Research Award (2012) and a Distinguished Teaching Award (2017). Her participatory design methodologies and her analyses of global cities, soft power, and the social impact of convergence technologies, are widely published in top tiered journals and anthologies, meriting her Top Paper Awards from the International Communication Association, and marking her as a postcolonial scholar who has shaped the field of International Cultural Studies. Courses at UW Tacoma span the undergraduate and graduate curriculum and include:
Re-orienting the Global
Global Networks, Local Identities
Media Globalization and Citizenship
Children and Television
Ethical Issues in Mass Media
Race, Gender, Class, and the Media
Culture and Public Problems
Innovation Through Design Thinking
McMillin is a sought-after speaker with invited presentations including the Robert Pockrass Lecture at Penn State (2013), Prix Jeunesse International Festival (Munich, 2010), Fifth World Summit on Media for Children (Johannesburg, 2007), and Boston University Symposium on Globalized Television (2004). She is a regular presenter on the international circuit, at such conferences as the International Communication Association Conference, Australia/New Zealand Communication Association Conference, Geomedia Conference, International Conference on Technology, Knowledge, and Society; and the International Conference of Education, Research and Innovation.
Consulting and workshops
On the academic circuit, McMillin consults on global curriculum design for the National Collegiate Honors Council and the Global Division of the American Association of Colleges and Universities. She is a reviewer for various international academic journals and book publishers.
On the local industry circuit, she has consulted on the global gig economy and outsourcing for Russell Investments, Siemens, and Philips. Most recently she created the Innovate Tacoma series through the Global Innovation and Design Lab, to assist organizations through the interrelated challenges of COVID-19, economic hardship, and systemic racism. Trained through the Innovation Masters Series at Stanford University (2019), she has led design thinking workshops for a range of corporate and non-profit organizations in Tacoma such as Titus Will Tacoma, Zenith West Gymnastics, United Way of Pierce County, the City of Tacoma, the Tacoma Pierce County Chamber of Commerce, and South Sound Together, to name a few. McMillin's columns and community projects are featured in the Institute for Innovation and Global Engagement's Newsletter and the Global Innovation and Design Lab's bulletin IDEATE.
For a current CV, or to book a speaking engagement or design thinking workshop, please contact Dr. McMillin at:
Email: divya@uw.edu | globalid@uw.edu
University of Washington, Tacoma
Box 358436, 1900 Commerce Street, Tacoma, WA 98402-3100
Phone: (253) 692-5651
Web: http://faculty.washington.edu/divya/