<![if !supportLists]>A. <![endif]>Research Interests
<![if !supportLists]>(a) <![endif]>System-on-chip (SOC) integrated Silicon-based CMOS/SiGe RF and millimeter-wave front-ends for high data rate (Gb/s) wireless body/personal area network (WBAN, WPAN) communication, high-efficiency/high-linearity power amplifier, digitally controlled transceiver front-end, phased-array multi-beam forming/nulling system, communication radar and sensors for detection applications ranging from disease control, hand-held medical scanners for bio-medical applications to portable weapon scanners for military applications.
<![if !supportLists]>(b) <![endif]>New promising research area of Radio Frequency (RF) Nanotechnology an enabling area bridging the foundations of nanoscience and its wide band radio-frequency applications, through microwaves up to the optical range. Nanoelectronics offers the gateway to a new generation of highly integrated multifunctional devices, circuits and systems.
<![if !supportLists]>(c) <![endif]>Developing integrated circuits and devices beyond millimeter-wave such as sub-millimeter wave and terahertz frequency region which promises a wide range of applications in engineering, science and medicine, such as detecting numerous diseases to inspecting food through its packaging.
<![if !supportLists]>(d) <![endif]>Integrated circuits development in the area of microwave/millimeter-wave and optical wave interactions.
<![if !supportLists]>B. <![endif]>Research Proposals and Funding
<![if !supportLists]>(a) <![endif]>Title: "Reliability Studies of CMOS Radio Frequency Integrated Circuits (RFIC) for Ultra-Thin Flexible Packages", NextFlex/Uniqarta Inc.
Funding: $36,294 (PI), May'17~Dec'17
<![if !supportLists]>(b) <![endif]>Title: "II-NEW: Probe Station to Characterize Body Area Network Sensor ICs for Cyber Physical Systems Applications", NSF
Funding: $362,865 (PI), Aug'16~Jul'19
<![if !supportLists]>(c) <![endif]>Title: "Tunable Power Amplifier for Smart Phones", North Dakota Department of Commerce, Venture Grant Phase-I
Funding: $100,000 (PI), Jan'16~Dec'17
<![if !supportLists]>(d) <![endif]>Title: "CMOS RFIC Development for Automatic Dependent Surveillance-Broadcast (ADS-B) Systems", Center of Research Excellence (CORE) Limited Deployment Cooperative Airspace Project: NDSU ADS-B Miniaturization Program
Funding: $94,544 (PI), Apr'13~Dec'15
<![if !supportLists]>(e) <![endif]>Title: "CMOS Integrated Beam Former with Conformal Phased Array Antenna for Wireless Communications", ND NASA EPSCoR
Funding: $32,400 (PI), Oct'12~Dec'13
<![if !supportLists]>(f) <![endif]>Title: "Ultra-compact ultra-low power wireless radio node for Body/Personal Area Networks", DARPA/STO
Funding: $250,000 (Co-PI), Apr'11~Jul'12
<![if !supportLists]>(g) <![endif]>Title: "Broadband High Frequency Measurement Set-up, Design-kit Development for RFIC Design and Radio Architecture Planning", Samsung Electro Mechanics
Funding: $30,000 (PI), Aug'10~Jul'11
<![if !supportLists]>(h) <![endif]>Title: "Multi-beam Beam Forming/Nulling Analog Pre-processor and Millimeter-Wave Highly Efficient Linearized Transmitter", DARPA LEAP Funding: Free tape-out opportunity in IBM 45nm SOI CMOS; equivalent to about $100,000 (Co-PI), Sept'09~Aug'10
<![if !supportLists]>C. <![endif]>IC Characterization Set-up and Some Developed Silicon-based Radio Frequency Integrated Circuits (RFIC)
<![if !vml]>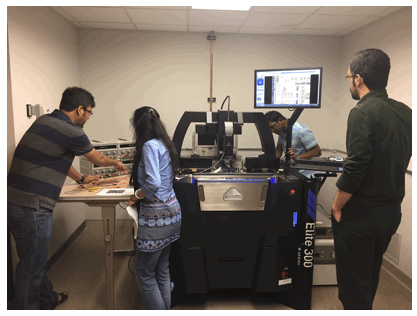 <![endif]>
RFIC Characterization Set-up at North Dakota State University
<![if !vml]>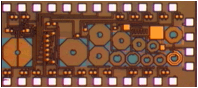 <![endif]> <![if !vml]>

<![endif]>
CMOS ADS-B Transmitter CMOS ADS-B Power Amplifier
<![if !vml]>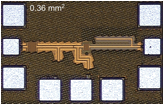 <![endif]> <![if !vml]>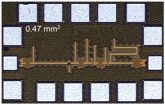 <![endif]>
60GHz CMOS Switching PA 94GHz CMOS Switching PA
<![if !vml]>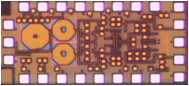 <![endif]> <![if !vml]>

<![endif]>
2GHz CMOS Integrated Phase Shifter 45GHz CMOS Vector Modulator
<![if !vml]>

<![endif]> <![if !vml]>

<![endif]>
45GHz High-Power/High-Efficiency CMOS VCO 45GHz CMOS Injection-Locked VCO
<![if !vml]>

<![endif]> <![if !vml]>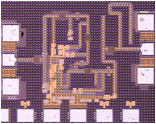 <![endif]>
45GHz CMOS LINC Transmitter 60GHz CMOS Linear PA
<![if !vml]>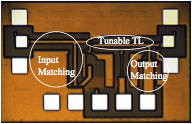 <![endif]> <![if !vml]>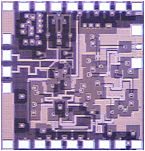 <![endif]>
60GHz SiGe Tunable PA 60GHz CMOS Transmitter