Testing and Vaccine Development
Most people who are bitten by a mosquito do not come down with WNV, so there is no need to run to the doctor for testing, although a WNV test has been available since July of 2003. There is a hybrid vaccine in development that has been shown to protect horses and primates. If all goes smoothly in the testing of the vaccine, in a few years a vaccine for WNV will be available for humans.
How 2003 Compares to Past Years: Record Number of Cases for 2003
Last year had been the worst year on record in the United States for WNV, with were 4156 cases and 284 deaths. As of September 24, 2003, with 4156 cases and 284 deaths. As of September 24, 2003, 4827 cases had been confirmed by the CDC. The bright spot in this news is that it appears that fewer people died this year of WNV: 93 deaths this year so far, compared with 284 deaths last year. While most of the people infected with WNV exhibited mild, flu-like symptoms, approximately 30% had more severe central nervous system affects, such as meningitis, encephalitis, paralysis, or coma. In the meantime, until cooler weather and shorter day herald an end to mosquito season, it is important to continue to take precautions such as reducing the mosquito population, wearing protective clothing, and using an insect repellant such as DEET.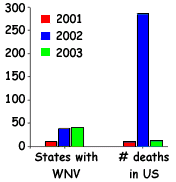 Statistics from the CDC.
Note: statistics for 2003 are for January 1 - August 22 only.