How Can You Get a Good Night's Sleep?
Experts suggest:
Stick to a regular sleep schedule.
Go to bed at the same time each night.
Wake up at the same time each morning.
Do not drink caffeinated drinks or do vigorous exercise in the evening.
Try to only spend time in your bed when you are actually sleeping, so that your mind associates the bed with sleeping.
If you can not fall asleep within a short time, get out of bed and read.
Do not study or watch TV in bed.
Didn't know any of this? You're not alone: the survey showed that 83% of the adult public failed the sleep IQ test!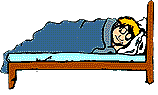 Less Sleep?
Not only are students sleeping fewer hours, they may also be sleeping less well. Why? Stress! What do kids have to be stressed about, you say? Plenty, research shows. A Seattle Times newspaper article (Tuesday, March 30, 1999, Lifestyle section, pages D1, D3) reported that kids worry about doing well in school, their family's health and well-being, and peer pressure--in that order. This worrying can cause children to have nightmares or trouble sleeping (called insomnia).

To make the problem worse, most parents are not aware that their children are feeling stressed. Many students feel alone, think that their parents do not listen to them, and fear that they will be criticized for their fears. Is this generation unique in its fears? Probably not, but they do seem to worry about things at a younger age than previous generations. And they may not be armed with coping skills to deal with all their worries.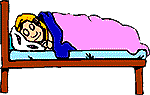 Dr. Bill Womack a psychiatrist at Children's Hospital in Seattle, teaches students relaxation techniques to help them manage their stress. The Seattle Times article included his tips for other ways of decreasing stress. For example, family support, even something as simple as having a weekly family get-together over dinner, can be effective.