The shark's six senses combine to make sharks great hunters. To track their prey, sharks find areas of the ocean teeming with fish where waters of different temperatures meet (called "thermal boundaries"). How do they sense the water temperature so well?

According to physicist Brandon Brown of the University of San Francisco, sharks are "the most temperature-sensitive creatures we know." Dr. Brown has discovered that the gel in those pores create an electrical current in response to differences in water temperatures. These electrical currents in turn cause electrically sensitive nerve cells to fire. This is how the shark detects small changes in water temperature, thus leading it to waters rich in fish.

In the lab, Dr. Brown warmed test tubes of the gel. He found that a difference in temperature as small as one degree Celsius resulted in a voltage as large as 300 microvolts. The experiments suggest that the gel could enable the shark to detect water temperature changes as small as 0.001 degrees Celsius.

How did Dr. Brown obtain this gel? He is known around the Bay Area coastline for being interested in sharks, so whenever a shark dies at an aquarium or washes up on shore, someone calls him. Getting the gel, it turns out, is easy! Just push down on the snout and the gel oozes from the pores. This Jell-O-like substance is then collected and whisked back to the laboratory.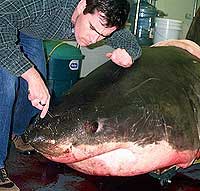 Photo credit: Dr. Douglas Kellogg, University of San Francisco