May 17, 2001

The Razor, Xootr, Zappy and Titan: these are just a few of the popular foot-powered scooters that are now sweeping the world. Made of lightweight aluminum with in-line skate wheels, these scooters are used by children and adults for fun and to get to school and work.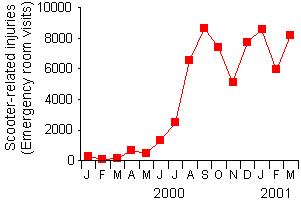 Hospital emergency rooms are also noting the popularity of these scooters. The U.S. Consumer Product Safety Commission (CPSC) released a report that shows a dramatic increase in scooter-related injuries. Their data indicate that emergency rooms treated 8,130 scooter-related injuries in March 2001. This compares to 6,530 injuries in August 2000, 460 injuries in May 2000 and 260 injuries in January 2000. Throughout 1998 and 1999, emergency rooms treated about 500 or fewer injuries each month.

Since September 2000, six people have been killed while riding a foot-powered scooter. The increase in scooter-related injuries is probably because more people are riding. Here are scooter-related injury data for 2000:
Injuries to head and face = 29%
Injuries to arm and hand = 44%
Injuries to leg and foot = 22%
Injuries to males = 67%
Injuries to females = 33%


The Pediatric Emergency Service of Bellevue Hospital Center treated 15 children for scooter-related injuries from July 1, 2000 to September 30, 2000. Most (87%) of these children suffered their injuries when they fell off their scooters. None of the injured children wore protective padding and only 2 of the 15 children wore a helmet. Five children had head injuries; none of these children wore a helmet.
To reduce the chance of injury when riding a scooter, the CPSC recommends:
Wear a helmet!
Wear knee pads, wrist guards and elbow pads!
Do not ride scooters at night!
Ride scooters on smooth surfaces and away from traffic!
Children under the age of 8 years should be supervised closely. Almost one-third of all injuries were to children under 8 years of age.