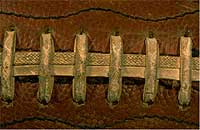 By Ellen Kuwana
Neuroscience for Kids Staff Writer
May 18, 2004

Football in the United States is enjoyed during all stages of life: childhood games in the neighborhood; high school games with the accompanying rituals of cheerleading and homecoming festivities; college games as the leaves change colors; and professional football, with its huge salaries and large TV-viewing audience. There are many reasons why people love the game, but tackles and collisions are a big part of the excitement of football. Although players wear helmets and pads, they experience blows of surprising force.
College Players Sustain Blows "Like A Car Crash"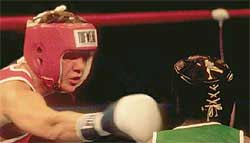 Recording data from sensors attached to the helmets of college players, researchers at Virginia Tech, led by mechanical engineer Stefan Duma, recorded more than 3,300 hits to the head during 10 games and 35 practice sessions in 2003. They concluded that players receive an average of 50 hits to the head, each with an average force of 40G (40 times the force of gravity). This is similar to the force generated by a boxer's gloved punch. The most severe hits were recorded at around 120G, which is approximately the amount of forced associated with a severe car crash. It is not unusual for a player to endure one or two hits of this magnitude during the course of a game. How do these hits affect players? Complaints of headaches are common, as are confusion and memory problems. These are a few of the symptoms of a concussion, a type of traumatic brain injury.
Concussed Players Need a Week to Recover
Kevin Guskiewicz, PhD, and researchers at the University of North Carolina's Center for the Study of Retired Athletes analyzed data from more than 1,500 players from 15 colleges over three years. The players' mental abilities were assessed before the season and after a concussion. The researchers concluded that, on average, football players need almost a week's recovery time after symptoms fade in order to avoid getting another concussion. Football players who suffered one concussion were three times more likely than non-concussed players to get a second concussion in that same season.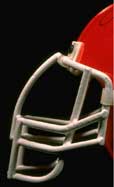 A concussion has a cumulative effect: each concussion makes the player more vulnerable to another concussion. With each concussion, it takes less force to cause another concussion and it takes longer to recover and get back to normal. For example, of 12 players who had suffered two concussions in a season, 11 had suffered the second concussion within 10 days of the initial concussion. In fact, the study found that one concussion puts a player at higher risk of another concussion for up to seven years!
Multiple Concussions Linked to Clinical Depression
The life of a pro-football player seems glamorous and exciting. National Football League (NFL) players travel widely and earn a good living doing something they enjoy. And they are paid well: in 2002, a player's salary ranged from $300,000 to the high $700,000s. The big salaries are matched by the size of the players. The measurements of some defensive players on the New England Patriots roster are 6 foot 4 inches, 340 pounds and 6 foot 6 inches, 310 pounds. Imagine what it would feel like to be knocked off your feet by one of these men. Or what that impact does to your body -- especially your brain.

Julian Bailes, MD, a neurosurgeon at West Virginia University's School of Medicine, along with Guskiewicz and other researchers at the University of North Carolina, looked at data from 2,488 retired NFL players. The average player's age was 58 years and average career length was 6.7 years. Of these 2,488 athletes, 61% had suffered a concussion; 30% had suffered more than three. Yet 73% of the concussed athletes reported that they were never asked to "sit on the bench," to not play because of the injury. Further analysis of the 2,488 athletes revealed that 263 (11%) had been diagnosed with clinical depression.

The study concluded that for retired athletes who had suffered three or four concussions, the risk of depression was two times that of players who had never had a concussion. For those who had had five or more concussions, the risk of depression increased to almost three times. This study echoes the link between concussions suffered by World War II soldiers and depression later in life. (The retired football players who had had concussions were not at increased risk for stroke or Alzheimer's disease, as previously suspected.)

The bottom line? No one knows yet why concussion increases the risk for depression later in life. Yet the long-term consequences of concussion are becoming hard to ignore. It takes time for the symptoms of concussion to go away. One concussion makes a player more likely to get re-injured. Players, coaches and parents need to start taking concussions seriously. Players who sustain a concussion should not play again for one week after the symptoms disappear. Coaches and parents should be vigilant to watch for future concussions. Head injuries can have lasting effects.