January 23, 2001

Monitoring The Future is an annual, national survey that tracks illegal drug use by students in the 8th, 10th and 12th grades. The survey is conducted by the University of Michigan Institute for Social Research and sponsored by the National Institute of Drug Abuse. The survey tracks illegal drug use of students in the eighth, tenth and twelve grades. The survey results for the year 2000 were published on December 14, 2000, and they point to both good news and bad news. Overall illegal drug use remained unchanged in 2000 compared with that in 1999. The use of some drugs decreased in 2000 compared with that in 1999. However, the use of other drugs, such as Ecstasy (MDMA), showed a sharp increase.
Findings from the Monitoring the Future Survey (2000)
Cigarettes and Smokeless Tobacco
The percentage of 8th graders who smoked cigarettes within a month of the survey decreased from 17.5% in 1999 to 14.6% in 2000. For 12th graders, the percentage decreased from 34.6% to 31.4%.
More 8th graders knew about the health risks of smoking: 54.8% in 1999 to 58.8% in 2000. For 10th graders, these numbers increased from 62.7% in 1999 to 65.9% in 2000.
The overall rate of smokeless tobacco use remained unchanged from 1999 to 2000.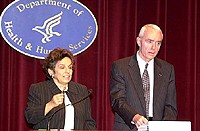 December 14, 2000: US Health and Human Services Secretary Donna E. Shalala, accompanied by the National Drug Control Policy Director Barry R. McCraffrey, announcing the findings of the 2000 Monitoring the Future Survey. (Photo courtesy: U.S. Department of Health and Human Services.)