By Ellen Kuwana
Neuroscience for Kids Staff Writer
April 27, 1999

Two stories have reported on new developments in the complex world of nitric oxide (NO). (For background information on NO, see the "In the News" story on NO: "NO is for Nobel.")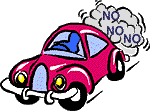 Nitric Oxide - The Defender?
Nitric Oxide (NO) is a gas that is found in air pollution. Cars, for example, give off NO in their exhaust. Scientists are now reporting that your body uses NO to defend against all sorts of nasty things, such as viruses, bacteria, and other microscopic enemies. What is it about NO that these small invaders do not like?

Because this story involves enzymes, it's important to understand what enzymes do. Enzymes (the names of which always end in "ase") are proteins that carry out chemical reactions. These reactions include tasks such as building up or breaking down other molecules. This process activates and inactivates chemicals, thus regulating important processes in your body.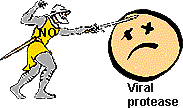 In the case of one virus, research has shown that NO seems to inactivate an enzyme called a protease. The viral protease in this study has the job of splitting large proteins into smaller ones that are used in making more viruses. Nitric oxide stops this process, so the enzyme no longer works and in the process, prevents viruses from multiplying.
References:
Saura, M., Zaragoza, C., McMillan, A., Quick, R.A., Hohenadl, C., Lowenstein, J.M. and Lowenstein, C.J., "An Antiviral Mechanism of Nitric Oxide: Inhibition of a Viral Protease," Immunity, Vol. 10 (January 1999), page 21-28.
"A gas just says NO to a virus," Science News, Vol. 155, No. 9, February 27, 1999, page 139.