November 11, 1999

On September 13, 1848, railroad worker Phineas Gage was involved in an accident that drove a three-foot long iron bar through his skull. Although Mr. Gage survived, his behavior changed drastically. He went from being a hard-working, well-liked laborer to a gruff, rude, foul-mouthed drifter. Examination of Mr. Gage's skull has revealed that he suffered damage to the frontal lobes of his brain. The primary area of injury was to a part of the prefrontal cortex called the orbitofrontal cortex.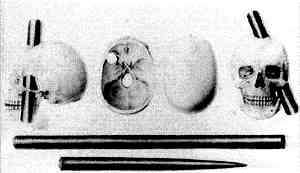 The skull of Phineas Gage.
Image courtesy of the National Library of Medicine, History of Medicine Collection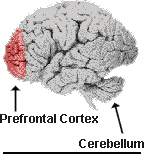 Approximate location of the
prefrontal cortex
Over 150 years later, there is more evidence that the prefrontal cortex may be important for moral behavior. Adults who suffer damage to the prefrontal cortex develop problems with making decisions and with behaving appropriately in social situations. Scientists at the University of Iowa have published a report (Nature Neuroscience, November 1999) about two adults who suffered prefrontal cortex damage when they were very young children. These two individuals had severe behavioral problems including impaired decision-making ability and "defective social and moral reasoning."