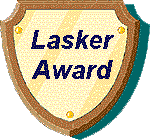 Six scientists' lives were made a little richer October 1st. That was when each was presented with a Lasker Award, also referred to as "America's Nobel Prize." Administered by the Albert and Mary Lasker Foundation, the $25,000 award recognizes outstanding scientific research.
Seymour Kety
This year the award for special achievement in medical sciences went to neuroscientist Dr. Seymour Kety, who is affiliated with McLean Hospital and Harvard University. His contributions include the discovery of methods to measure the brain's blood flow (published in 1948), studies of genetic and environmental influences of schizophrenia, and ushering psychiatry into the molecular age.

In 1950, Kety accepted an invitation to become the first scientific director of the National Institute of Mental Health. The newly founded institute aimed at becoming a world-class center for brain research. Kety helped guide it toward that goal, and emphasized basic and clinical research.
"The human brain is unique among that of all creatures for its capacity, its plasticity, its ability to conceptualize and create, to experience ecstasy and deep grief and to describe to outside observers the results of its inner processes" - Seymour Kety